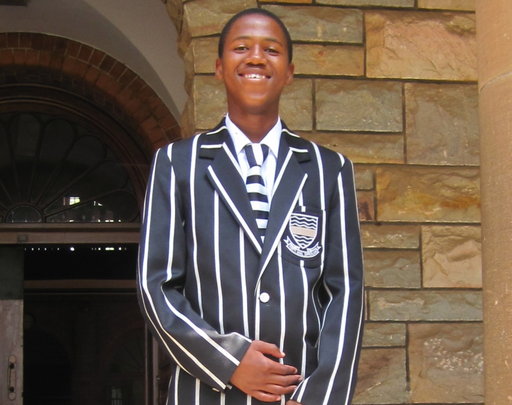 We are excited to tell you about Zolisa Faba; a 14 year old boy from our Mass Participation Programme. Zolisa progressed into our Senior School of Excellence Program with a scholarship to Jeppe High School for Boys in Johannesburg. He has now completed his first year at Jeppe, and what a change we have seen in him!
For any young boy, growing up without a father always has difficult implications, but for Zolisa the situation worsened when his mother fell terminally ill two years ago. His mother had to be moved to a specialist hospital in Cape Town for the demanding care she needed. It felt as if his, and his brothers, world was falling apart and he had no option but to leave home.
Living with their Great Aunt, and seven other people in a small house, things were not quite the same for these two boys. The whole household was dependent upon the pension of their great Aunt (R880 per month / £73) as it is the sole source of income for the household.
Zolisa felt he and his brother were a burden to his Aunt, not surprising when her pension equated to less than R5 (40p) per person per day. As a result there were many periods when Zolisa was only eating a meal once every three days.
When the opportunity came along to send one of our talented sports men to one of the top schools in the country, it was not difficult for us to choose Zolisa – not because of his circumstances but in spite of them. He was one of our most dedicated learners, his enthusiasm and determination within our program stood out. He was dedicated and committed, regardless of the family situation back home, and clearly wanted more from his life.
Zolisa now eats regular meals, has grown hugely both physically and mentally and after just one year at his new school, stands out as a fine, well mannered young man. Most importantly he is receiving a top level education which will allow him to progress onto almost any career path he chooses and ultimately completely change his own future and that of his family.
Zolisa is a great example of the opportunities we strive to create for our children. We are so proud of how far Zolisa has come and so excited about where he is going!
(Special thanks to Theo Jackson Scholarship Fund for making this possible)