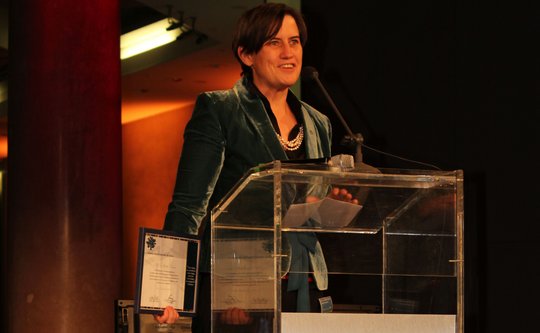 Creativity, innovation and a good sense for business with a readiness for risk taking – that are the skills an Ashoka fellow needs. All that for one goal: overcoming social problems and creating social change – worldwide, for his/her model is also transferable.

On the 24. of November, the Ashoka Foundation presented eight of these change makers, one of them Prof. Dr. Heather Cameron, founder and executive director of Boxgirls International. That makes Boxgirls part of the global Ashoka network, with people as the Peace Nobel prize winner Muhammad Yunus as company.
Background:
Cameron studied Political and Social Thought at the York University in Toronto and besides being a social entrepreneur she is a assistant professor for psychology and educational science at the Free University of Berlin, Germany, and Professor Extraordinarius at the UWC.

As a scholar, she creates new forms of teaching and learning and explores social innovation and participation.
Her lab is real life itself: In 2005 she founded Boxgirls International in the district of Kreuzberg in Berlin-Germany. Meanwhile an international organisation, Cameron combines theory with practice and supports socially challenged girls to become the strong, independent and participating woman, that every girl has in herself and therefore create a generation of changemakers – in Berlin as well as in Nairobi and since last year also in Cape Town, in the districts of Atlantis and Khayelishta.

Corresponding her theory, that innovative teaching can only be achieved through the principle of participative inclusion, all her students have the opportunity to become an active part in these urban research facilities for social change.

It is no wonder, that she picked boxing to be the tool for that kind of change: In a Boxgirls training strategy, discipline, willpower and stamina are on the schedule. And the sport is just the door opener: presentation and media trainings are as much part of the Boxgirls programmes as first aid courses and workshops for economic empowerment, being true to the main principle of the organisation that is female empowerment.
To aid the development of these skills, Boxgirls does not wait for the girls to come, but lunches into action. With school outreach programmes and community work, Cameron found a way to meet the girls where they are. More and more people and institutions see the virtue of this approach and recognise the catalyst effect of the Boxgirls programmes.

Heather Cameron realised her vision, to bring critical thought and social entrepreneurship together, against all odds. The ever growing success proves her right: The granting of the fellowship is preceded by the nomination as "Professor of the Year 2010" by the German Association of University Professors and Lecturers and the winning the competition start social with the "special prize of the chancellor" awarded by the German chancellor herself, Dr. Angela Merkel.
Links: