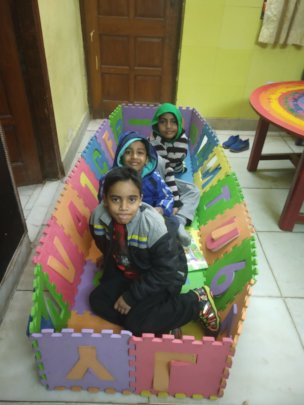 Sharad and Sakshi, the children with special needs have started schooling in a special school. Both of them are 4 years old now. Though Saakshi cannot hold her body up still, she shows much excitement about the whole process of getting ready in the morning and travelling to the school with Francis Bhayya and the teacher. School is a new experience for both of them and they look forward to it every day.
Both Sakshi and Sharad were abandoned at birth in different hospitals. Both were prematurely born and had to be in the incubator for a long time. Both are under treatment for convulsions. Sharad is able to walk but not talk. Sakshi is learning to sit and balance her neck at the age of four. She too does not speak.
Thank you for supporting such children in Asharan. Asharan had been a refuge for over 700 children since it was started. Many of them have found families through adoption.
Renovation of Asharan building is still on. The toilets and kitchens on 1st floor are getting renovated now.
A big thank you to all those who are supporting the rennovation work. You are helping the kids here to have a better place to stay.
Status of renovation work.
Work completed
- Emergency exit and external stairs,
- Four emergency exits
- Boundary fence behind the building
- Three drainage systems on ground floor,
- Painting of the outside wall except for a small portion below
- Purchased new chairs for the class room
- replacing doorframes and windows
- 2 bath rooms – pipes, fittings, tiles and flooring replaced
Work in process
Plumbing : Replacing the complete pipeline of the building, including bathrooms, kitchens and washing areas, construction of storage space.
Pending work
Replacing some of the shelves in kitchens and kids rooms, class room; fixing tiles in bathrooms, kitchens, wash area, terrace; repair of the front and side boundary. Replacing the bamboo fence and painting of building interior and fence on two sides, carpentry work, some electric work, etc
Wish list
- Asharan requires more well-wishers to provide regular monetary support to care for the orphaned and lost children.
- Sponsor a child
- Sponsor a caregiver
- Sponsor physiotherapy
- Our future dream is for a more spacious home for the kids and to raise a corpus to sustain Asharan's work for the future.
We are extremely grateful to all those who have extended your support this quarter. Thank you for supporting the renovation work. We appreciate you for being socially responsible.
Asharan Orphanage, HOPE foundation, Delhi was started in 1997 to give care and protection to young children who have no one else in their lives. Asharan has cared for 708 children since 1997. The children here are at the age group of new born to 7 years presently. In 2019, Asharan cared for 59 kids. 10 orphan children found families through adoption in 2019 and 25 lost children were restored back to their biological families
May you be blessed in increasing measures!