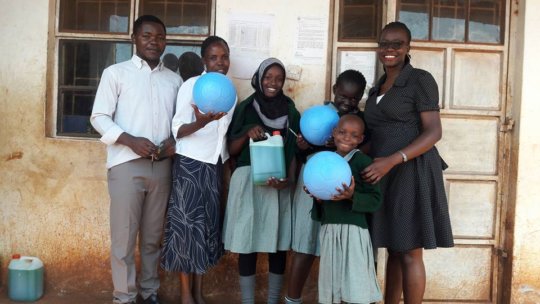 Most public toilet are always very dirty in Kenya, girls are more affected by these dirty toilets due to their biological structures. The girls through the Community Based Participatory Research (CBPR) came up with an idea of how to get people to maintain their toilets clean. Through this project, Polycom Development Project (PDP) has:-
1. Successfully lobbied to have girls and boys to have separate toilet blocks in our 15 partner school.
2. Gotten the school adminstration to support the project by monitoring cleanliness.
3. Gotten the girls to talk freely about their reproductive health.
Every first week of a school term, PDP prepares detergents and distribute to school, the girls are called up to look at their dirty toilets, then the toilet is cleaned and they are called again to look at it clean. They are then challenged to maintain what they like, before or after. With these the toilets are maintained clean throughout the term. This term 15 schools received their detergents and the toilets cleaned, the weekly school discussions have been on menstruation and general hygiene for girls.
This terms each school received balls for their sports, PDP uses sports coaching to intiate discussions with girls on issues affecting them. The play ground act as a safe space where they can meet at play. A total of 33 balls were distributed this term, the students leaders received the balls and will ensure that the girls use them.
Being the beginnning of the term, 4 girls received their school fees cheques from PDP, these are very needy girls willing to purue their post primary school education.
The weekly speak out forums continue every in the office, in the month of January, 250 girls attended the sessions, topic of discussion was menstruation.
Links: