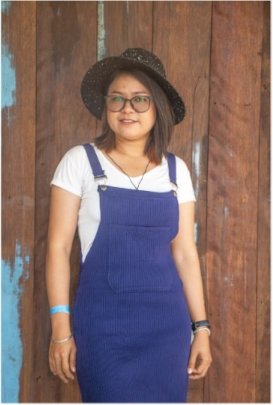 Since we have been living with this tough situation of the Covid pandemic for a couple of years, It's hard for us to meet our group in person. For youth learning center has started and closed again and again by following the curfew of the government and serious situation. Through these circumstances we have learned and experienced it in some way, We knew what we can and we do keep our mission go on. At the first start, we're had a zoom meeting class with students to keep connected and learn together, There are three things that YESIC still working on during this pandemic, Growth groups, self-study, and covid pandemic relief.
Growth group:- besides closing all English classes, computer classes, and other two meeting groups in the big number of students, we just have a few growth groups (Safe community, Al-Anon1, and Al-Anon2) which can meet in the person in class under 15 people to join. Unexpectedly when our growth group has started a few weeks one of our group members Ms. Sitha she was positive with covid…What we can do in this situation are: to stay close to encourage, help, listen, support each other, and Praying for her.
Self-Study-For our teachers and volunteer even if we don't have classes to teach, we still have time to work on our lesson plans and self-study to improve our capacities to work effectively when we will start classes again.
Story from our student, Sitha:
My name is Sitha. I'm a member of Al-Anon1, a growth group for those who are victims of the alcoholic in their family, at DOVE organization.
August 11th was an unforgettable day of my life. The day that my Covid-19 test came out positive. I felt terrible and guilty for causing my family trouble. Not that I got sick, be quarantined, and left my parents taking care of the whole family and me, but also they had to go through discrimination from my neighbors and had to be stuck at home, couldn't go out to work either.
I was mentally breakout and felt sorry for everything and for everyone I came in contact with. I made calls to everyone I met to inform them to keep their eyes on their health and keep their distance from their family and friends for a while. I was terribly blamed by one of my coworkers for being caught by this virus and for being careless to meet with her and may cause her and her family trouble too. Some of them got upset and discriminated against me. But some of my friends showed me empathy and encouragement and helped me not going through this alone. My friends at Al-Alon1 paid a few visits to my house by saying hi from the gate and leaving food and fruits for me at the gate. I can't imagine how I would fight this fight alone with such acts of kindness and love.
While I was worried about my poor parents, my heart was screaming and begging God that my poor sick older brother will not get infected from me because he was born with a chronic illness and was not expected to have lived this far. So I thought he won't survive this virus. My nightmare became real, after I came out from two weeks of quarantine my brother got tested and it the result was positive. My parents and I burst out crying. He could not walk then. He prepared to have Orthopedic Surgery for maybe 2 or 3 months ahead but now he has to fight with Covid. I lost control of myself at this point and it hurt my feeling so badly. I was scared to imagine how worst the virus may infect him in the next few days since I experienced it myself. I also worried about our financial stability.
This problem taught me a lot of things. At the end of the day, only your family will remain by your side and support you no matter how much you screwed them up. True friendship only got proved by going through hardship in life. The last lesson that I learned from this event is to not underestimate any kind of virus. Not for my safety but also for the safety of those I love and care about. Be alert and careful.
Last, of all, I would like to say Thank you to my Al-Anon group and all Dove's staff for their caring heart and the words of encouragement, and for checking up on me often time during my breakout. Love you guys. "