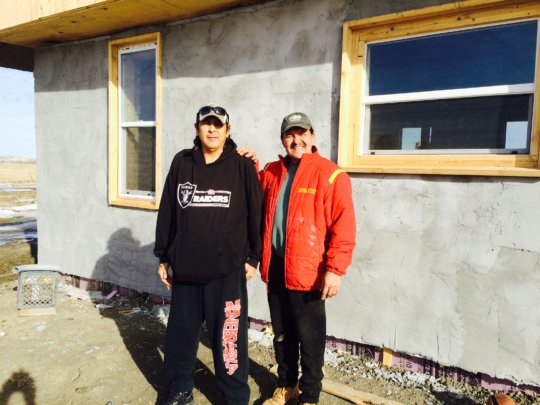 The great plains have seen a milder winter thus far, which has been beneficial for many reasons. For our project, this means that we have been able to move forward on the interior of the Shield's home. In January, we were able to run all waterline and electrical line throughout the home. Clearing this hurtle has allowed us to bring heat and water into the home. We are now seeing the house become livable. Now that we do have electricity, we are able to heat the home, allowing us to plaster the interior block walls and completely seal up the home.
The earth block home design provides a unique heat sink where the walls hold heat long after the heating source has stopped running. But heating a home with gas or electricity is not ideal on the reservation, as electric and propane costs can skyrocket in the winter. This is why we are very much hoping to fund a grid tied Photovoltaic solar panel system to offset some of the homes electric cost. Please see our microproject to contribute to this solar PV system!
Over the past month we have started hanging drywall on the interior walls and ceiling. Soon we can begin insulating the attic with "Rez Paper," as our partner Henry Red Cloud of Lakota Solar Enterprises likes to call it. This particular cellulose insulation is partially made from recycled newspaper from the reservation along with cleaned, cellulose plant material.
As the home progresses this spring we look forward to showing the people of Pine Ridge and beyond that Compressed Earth Block construction is not only functional but livable. We are putting the finishing touches on the Shield's house but we need your help to truly give it that finished feel. The Shields family is anxiously waiting to move in so please consider contributing to this project so that we can get them moved in as soon as possible!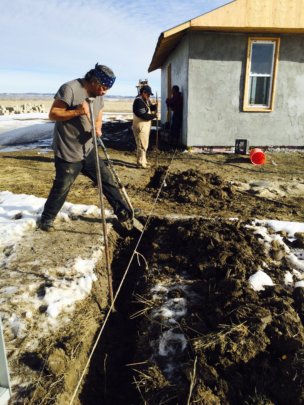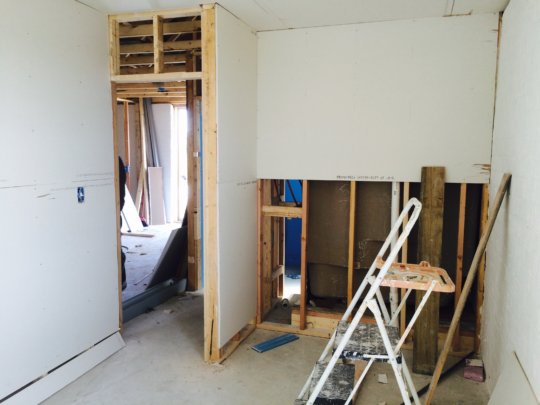 Trees, Water & People's business development training for Native Americans has had a huge impact in the last year, in large part because of friends and donors like
you
.
Besides helping
Green Business in Indian Country Start-Up Award
winner, Tyler Tawahongva, with his company Cloud Nine Recycling, TWP has continued to develop the
Red Cloud Renewable Energy Center
as a national facility for introducing tribal members to renewable energy and alternative building technologies.
While Native American students come to the Center for a particular workshop, they then have the opportunity to be introduced to applications for a whole host of other renewable energy approaches like solar electric, solar heating, solar radiant floor heating, solar water pumping, and solar mobile stations. Our students see buildings that use cellulose insulation, and buildings made of straw bales and compressed earth block (CEBs). And they get to eat tasty organic food from the Solar Warrior Farm while meeting students from many different tribes.
For 2016, we are working on the details for a solar electric workshop and installation on the new three bedroom CEB house we built this last year for Paul Shields and his family. And we are making arrangement for another Canning and Food Preservation workshop and a Foraging for Native Foods workshop.
We are also partnering with
We Share Solar
to introduce Native American high school students to solar energy and get them thinking about opportunities for green jobs in their future.
Because it's more than just learning job skills; it's about learning principles of sustainability, fostering improved economic circumstances and encouraging Native Americans to consider starting green businesses of their own!

Thank you for being a part of this effort!
Kind regards,
Richard W. Fox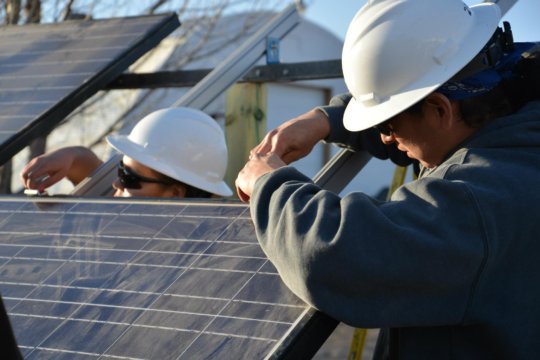 Links:
At the Colorado State Forest Service Tree Nursery in Fort Collins, Colorado, 17,250 ponderosa pine tree seedlings are basking in the Colorado sun, growing strong as they await transport to their new home on the Pine Ridge Reservation in South Dakota. In May of 2016, we will move the trees to the reservation, where they will be planted in areas that have been devastated by severe fires.
In 2015, we worked with the Oglala Sioux Tribe, the Bureau of Indian Affairs (BIA), and local tribe members to plant 10,000 ponderosa pines. This year, we will nearly double our reforestation efforts and also create nine part-time jobs in the process. In an area that has seen very poor management of forest resources, tree planting will create many positive outcomes for current and future generations.
Pinus ponderosa, commonly known as the ponderosa pine, is the most widely distributed pine tree in the United States. "Ponderosa" is the Latin word for "heavy, weighty, or significant" and refers to the impressive size and stature of the trees. It's yellow to orange-red bark distinguishes it from other species. The ponderosa pine is of vital use to Native American tribes who have used its boughs, pitch and needles to produce medicine, its roots to create a blue dye, the needles for insulation, and boards for construction. The ponderosa pines we are planting were started from seed collected in South Dakota.
We are so thankful for your support of these important reforestation efforts on the tribal lands of the Oglala Sioux. Your support has helped to make this project become a reality. We hope you will consider making an additional donation so we can reach our fundraising goal!
WARNING: Javascript is currently disabled or is not available in your browser. GlobalGiving makes extensive use of Javascript and will not function properly with Javascript disabled.
Please enable Javascript
and refresh this page.