We at Trees, Water & People (TWP) have been so fortunate to have your wonderful support over these past months. TWP's business development training for Native Americans has had a huge impact over the past year, in large part due to friends and donors like you. In 2015, we hosted enough workshops and demonstrations to train 783 local people! We could not have had such success without you.
This summer, we will be ending the Green Business Development program. This break will allow us to improve the program and forge relationships with other Tribes for possible business development programs in the future. We will continue our regular solar workshops and demonstrations, however.
The Green Business Development program has been a great success. We helped Tyler with his company, Cloud Nine Recycling, which is now an LLC. He is currently in the process of buying a box truck so he can have the freedom to decide when and where he will take his recycling inventory, rather than paying high rental prices for a truck. He is an inspiration to others who want to wade into entrepreneurship and make a difference in their communities to be clean and green! He also is a "Green Business in Indian Country Start-Up Award" winner!
Besides helping Tyler with his company Cloud Nine Recycling, TWP has continued to develop the Red Cloud Renewable Energy Center as a national facility for introducing tribal members to renewable energy and alternative building technologies. We also had the honor of welcoming the documentary film crew from This Changes Everything to the Red Cloud Renewable Energy Center in March of 2013 where they documented one of our solar energy workshops for Native Americans. It was hosted in partnership with Lakota Solar Enterprises, Solar Energy International, and the National Wildlife Federation's Tribal Lands Conservation Program.
Your support has been invaluable and you have helped changed the lives of so many! Thank you!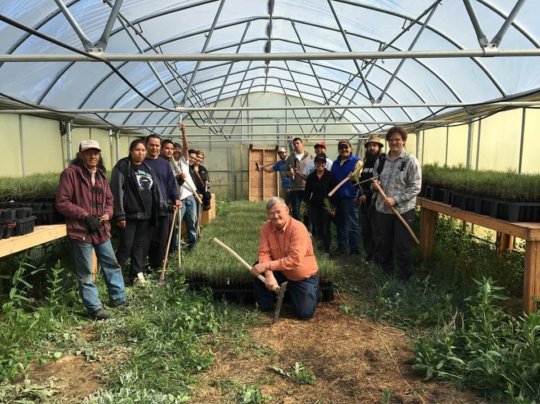 Happy spring to one and all!
After a long winter, we at Trees, Water & People (TWP) are excited to begin the planting season on the Pine Ridge Reservation in South Dakota. Last week, we happily bid farewell to 15,000 Ponderosa Pine seedlings provided by the Colorado State Forest Service Nursery. These trees will help reforest areas burned by wildfires on Pine Ridge.
Planting the Ponderosas will sequester carbon and reduce greenhouse gases, improve air and water quality, reduce soil erosion, reestablish wildlife habitat, and enhance ecosystem resiliency, while engaging Native Americans in the protection of their lands. One thousand of the seedlings were sent with special well wishes written on gardening stakes by the Earth Day patrons from TWP's recent Earth Day event in Colorado with New Belgium Brewery and Topo Designs. The collaboration was a huge success and a whole lot of fun!
Helping us plant all these trees and veggies is long-time supporter, Rob Beheady of BeHeady.com. Rob has been raising funds to plant trees with TWP for many years through the sale of his beautiful steel drums. We are so grateful to have his help and support!
The tree planting crew consistes of 11 Native Americans and 3 non-Native volunteers, with Henry Red Cloud, our Lakota partner who runs Lakota Solar Enterprises, at the lead. Dispite a late frost scare, all the trees made it safe and sound and are in the process of establishing themselves in their new home.
We could not have done this without you! Thank you all for your generous support. We look forward to continuing this reforestation project into the future.
Greetings Friends,
It's with a heavy heart that I must inform you the course that Armando and Rene were looking forward to attending has been canceled. This is an unfortunate circumstance that we must work around. Armando and Rene remain optimistic about future training opportunities to benefit their communities. They will continue to be leaders with or without this training, and we know that they will overcome this adversity to build strong, resilient communities.
For now we have rolled over your generous donations to the Native American Green Entrepreneur Fund. If you would like your donation allocated elsewhere, please let GlobalGiving know.
Thank you for your support! We will keep you updated on Armando and Rene once a new course becomes available.
WARNING: Javascript is currently disabled or is not available in your browser. GlobalGiving makes extensive use of Javascript and will not function properly with Javascript disabled.
Please enable Javascript
and refresh this page.