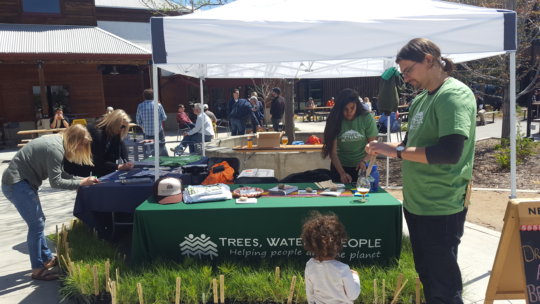 Now that winter is over, we are gearing up to begin the planting season! The Colorado State University Forest Service Nursery started 30,000 Ponderosa Pine seedlings for us to plant this year! These seedlings will be making their journey to Pine Ridge on May 1st and will spend a week or two acclimating to the environmental conditions of South Dakota. After this adjustment period, hired residence of Pine Ridge will begin to plant the trees in areas that have been destroyed by fire.
But before the trees make their journey to South Dakota, we took advantage of an Earth Day event for Trees, Water & People to engage with the public about the reforestation work we do. Like last year, we celebrated Earth Day with New Belgium Brewery to send Ponderosa Pine seedlings with special well-wishes written on gardening stakes. This event was met with great enthusiasm by the New Belgium Brewery patrons and raised awareness about the issues on the Pine Ridge reservation.
Planting the Ponderosa Pines sequesters carbon and reduce greenhouse gases, improves air and water quality, reduces soil erosion, re-establishes wildlife habitat, and enhances ecosystem resiliency, while engaging Native Americans in the protection of their lands.
Community reforestation on tribal lands is not just great for the environment, it also provides tribal members with valuable skills that could promote future employment in forestry. Planting trees is a meaningful and symbolic way for communities to "take back the land" in a way that honors their customs and beliefs. This project incorporates culturally-relevant avenues to climate change mitigation, with an emphasis on placing Native voices at the forefront of a local climate change movement.
With winter upon us, tree planting is currently in a holding pattern until the warmer weather returns. However, we are getting our spring trees ready thanks to the help of our friends at the Colorado State Forest Service Nursery. They have sprouted almost 30,000 Ponderosa Pines for us, which is twice as many as last year! The seedlings will make their homes on the Pine Ridge Reservation in late April/early May in a 20,000 acre burned by fire.
Not only are we setting our goal high for this coming season, but your support for our Tribal Reforestation program has been so enthusiastic that we are looking to branch out (get it?!) to other Native American Reservations. With the excellent videography of
Vision Maker Media
, we have produced "Bridging the Generations," an informative and inspiring video about our community reforestation efforts on the Pine Ridge and Rosebud Reservations in South Dakota. We hope it will spread the word about our program, and ultimately, help other tribes develop similar reforestation efforts.
Links:
Now that the planting season has come and gone, Trees, Water & People is working to raise awareness about our tree-planting program. Thanks to our partnership with the Colorado State Forest Service Nursery, we are growing the next generation of Ponderosa Pines for the 2017 planting season in South Dakota. In the meantime, these little guys have had a few local field trips (they are already some well-traveled trees)!
The first event with these baby trees was hosted by the Whole Foods Market, where we asked shoppers to sponsor a tree by signing a wooden stake and writing well-wishes or dedications on the back to send along to South Dakota in the spring. People loved the tiny little guys and kept asking if they could buy them and take them home! This was a great opportunity to educate community members we don't often get the chance to talk to about how important our tree-planting program on Tribals Land is.
Our second fall event was a collaboration with other nonprofits and organizations in our community to celebrate kindness. Speakers reminded us of the importance of being kind to one another, but also to animals and the planet. Trees, Water & People's booth at the festival featured our little trees, and again, we asked for people to sponsor a tree and send their kindness and kind words on stakes to be planted with the trees.
To end our fall outreach, Trees, Water & People was invited to a nonprofit fair at Colorado State University, where hundreds of eighth-grade students came to check out all the different charitable organizations in our community. Our booth was one of the most popular, with tons of students signing stakes to send up with our trees to South Dakota. It was fun to see the kids get so excited about planting trees!
It's been an eventful autumn for TWP and our little trees. We know they will grow big and strong once they reach South Dakota with all this love surrounding them. Thanks for all of your support!
WARNING: Javascript is currently disabled or is not available in your browser. GlobalGiving makes extensive use of Javascript and will not function properly with Javascript disabled.
Please enable Javascript
and refresh this page.