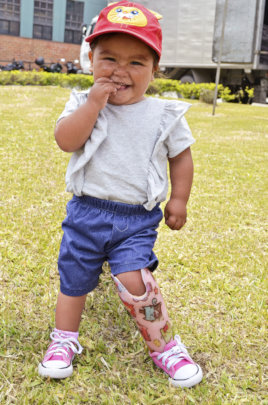 Hello dear donor, this is a new report of the project "Give prosthetics to low limbs amputees in Colombia" of the Mahavir Kmina Corporation.
But first of all, I want to take this opportunity to thank you for all the support we received from you in 2019 and to wish you a happy and prosperous 2020 from the entire Mahavir Kmina team.
Our efforts are paying off: several ongoing research projects, expansion of our technological offer, new opportunities for cooperation and, most importantly, more than 4,500 people who have walked again thanks to the prostheses we have donated together.
On this occasion, I want to share with you a story about one of the most adorable girls that Mahavir Kmina has supported. We are talking about Saira, a two years old little girl who was born with a strange deformity in one of her legs.
Saira's left leg has a notable shortening, so she could never have walked if it were not for the prosthesis that the Corporation made especially for her.
Saira smiled when she saw her prosthetic leg for the first time, she loved the faces of kittens that are printed on her. However, the little girl felt very bad when we attached it to her, a foreign object attached to the body may be something to worry about. She cried and tried to take it off, but Mom's super powers managed to reassure her.
Another change of mood occurred later, when Saira did not even seem to remember her new prosthesis. Her mother began to encourage her to walk, but Saira was just crawling up to her. Then, Mom lifted her by taking her from her hands, put her on her feet and then released her. Saira fell, but mom tried again. Saira fell again. Mom did not give up. After several attempts, Saira managed to stand for something like three seconds.
After a while, the baby was already taking a few steps, just a couple of them before falling, but it was a good start. Each time, Mom and Mahavir Kmina's team encouraged her, to which Saira responded with a big smile, she knew she was doing something very good.
Saira will return to the Corporation soon. Being so small, her prosthesis will be small pretty quickly. Luckily, Mahavir Kmina will always have its doors open for her.
This history of overcoming has been possible thanks to the support you give us with your contributions to our cause. Mahavir Kmina provides prostheses at no cost to anyone who needs them to walk again. Today, we face the complicated situation of helping more than 600 people who are waiting to receive theirs, so we invite you to consider becoming a recurring donor of our cause through Globalgivin's platform.

Together, we can give more children like Saira an opportunity to start over.