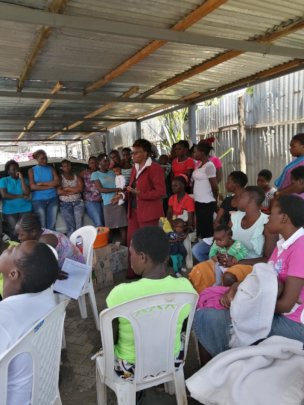 Adolescent girls and young moms under 'Secure Futures' program had a privilege of being visited by nurses from Bahati health care Centre, a local hospital that has forged a partnership with VAP as one of its referral points. The nurses addressed issues of: family planning, prenatal, antenatal care, delivery, sexual reproductive health related issues and several topics regarding maternal to prepare expectant young moms for safe delivery. Participants were invited to visit Bahati to familiarize with the equipment and the procedures. Bahati hospital will work hand in hand with the secure futures participants as they provide maternal health and family planning information and services to the participants.
Standard Chartered Bank's Global Staff Visits VAP
Standard Chartered Bank's staff from different parts of the world came all the way from their respective countries to: learn, network and exchange knowledge with VAP's Employment Entrepreneurship participants. Led by standard chartered bank's local representative, the staff had an opportunity to learn more about GOAL program and its Employment Entrepreneurship transition including the challenges and success that participants encounter during the entire program. The staff had a mentorship session with participants sharing their own experiences, challenges and successes from their own backgrounds while inspiring participants.
VAP At The Africa Women Innovation and Entrepreneurship Forum
With its advocacy of economic empowerment for young women through the platform of football, VAP was part of the delegation that was invited at the Africa Women Innovation and Entrepreneurship Forum (AWIEF) hosted at Cape Town International Convention Centre. The event which is Africa's most prestigious award event was designed to showcase excellence and celebrate the achievement of women entrepreneurs and business leaders who contribute to the transformation and development of Africa's economy, creating jobs and opportunities across the continent. Through Employment +Entrepreneurship project, VAP has been propelling girls and young women into employment and entrepreneurship opportunities with the foundation of vocational training courses.
Inclusion Walk
Over 120 youth participants with and without intellectual developmental disabilities including teachers, volunteers, VAP staff and coaches, participated in a 4 hours procession walk that ended with a petition statement at the central organization of trade union offices (COTU). The petition letter presented to the secretary general, banked heavily on inclusion to the: society, schools and job opportunities for people with intellectual developmental disability.Additionally,leaflets with inclusion messages in the society, schools and jobs were distributed to various entrepreneurs and employers. The 7 kilometer procession walk aimed to amplify VAP's commitment of integrating youth with intellectual developmental disability into our society, programs and moreover into employment and entrepreneurship opportunities through vocational training courses.