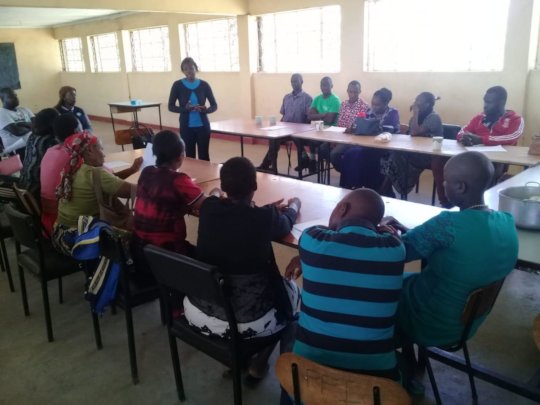 With the word INCLUSION being at the center stage of VAP's programs for 2019 and moving forward, VAP has been spreading its tentacles to reach out to the youth with intellectual developmental disability by integrating them into social and economic development programs. Spearheaded by VAP and supported by Unity College of professional studies, and the backing of parents and teachers, a couple of youth with IDDs, both girls and boys were recruited from various special schools for 'Employment and Entrepreneurship' project. The youth will undergo vocational training courses of their choices, similar to their counterparts (youth without IDD) and expected to graduate and join the mainstream society for economic development. "I want to pursue hair and beauty, start my own salon and earn money for myself and support my family" Said 22 years old Teresia from Nile road special school.
International Women's Day
8th March couldn't go unnoticed as VAP's 'Employment and Entrepreneurship' project participating girls joined women staff of standard chartered bank and other external invited women guests from different organizations to commemorate the international women's day at the bank's headquarters. The room filled with words of gender equality and the day's theme of Balance for Better, sparked a vital conversation and discussions surrounding on how organizations and institutions could create equilibrium in workplaces and the community in general.
New Crop of Sports Physiotherapists
After spending 3 weeks of both practical and theoretical trainings under 'Breaking The Barriers' project, a new group of girls emerged as certified sports physiotherapists and first aid trainers. The trainings conducted by VAP in partnership with other recognized institutions, saw a total of 20 girls graduating from the course. "Am happy to complete my basic course in sports physiotherapy and First Aid. My next step will be to implement the skills at my local volleyball club as I look forward to advance my career." Said 21 years old Mwindu
Meet Karen
At the tender age of 12 years, Karen was already a participant of VAP's programsin the slums of Kiambio albeit surrounded by a myriad of social and financial challenges. As she was growing up, she participated in Skillz Kenya program that addresses HIV awareness as well being part of the Goal program that addresses sexual reproductive health and economic empowerment, while at the same time being an active football player for Mrembo football club. After going through all these programs, she was integrated into vocational training course where she focused on pastry and cookery and finally after her graduation she landed a job at Hot Delli, a food store inside Garden City mall. "I can now confidently support myself and my family with my earnings." Said 21 years old Karen.