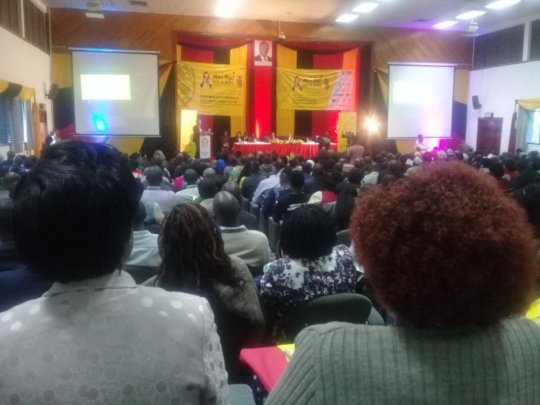 As an organization that's keen on the usage of football in the fight against HIV, VAP joined other invited guests;professionals,scientists,NGOs,and government health representatives from across the region in the 5th Maisha HIV and AIDS conference held at the Kenya School of Monetary studies. With the theme being 'Leveraging the HIV Response to Accelerate Impact for Universal Health Care ", the Conference provided a platform for discussions and deliberations on opportunities and challenges for leveraging the HIV programme to accelerate impact for Universal Health Care. The event was organized to include panel sessions and plenary presentations with diverse speakers and presenters from across Kenya and regionally. The Conference was preceded by six (6) Pre-conference Meetings on key thematic areas which were channeled to the conference.
Reaching Out To The Street Children
In commemoration of International Day of Street children, VAP was invited by its partners to celebrate the day at St. Johns community Centre. Officially commissioned by government representative, a total of 500 street children from various centres around Nairobi and approximately 15 organizations that work with street children were entertained with football games and football based activities that carry various messages including promotion of voluntary medical male circumcision (VMMC) amongst adolescent boys and delivery of on-site biomedical services that included HIV testing.
Our New Staff
Joining the list of existing staff this year is Winnie.The 23 year old Winnie was a former Skillz Kenya participant during her high school days and ever since her graduation from Skillz Kenya program, she managed to develop a great deal of passion giving back to the community through the shadows of Skillz Kenya program, amplifying what she was taught to her peers and the community. She managed to go through a training of trainers course and became officially a certified Skillz Kenya coach and thereafter ascended to the position of a master coach (Trainer of trainers).Her good chemistry with millennial and other fellow coaches has been of great impact to her personal development and the organization as a whole and this has contributed heavily to her promotion as a full time staff. "Happy to be part of an organization that has been at the core of my life development." Said Winnie.