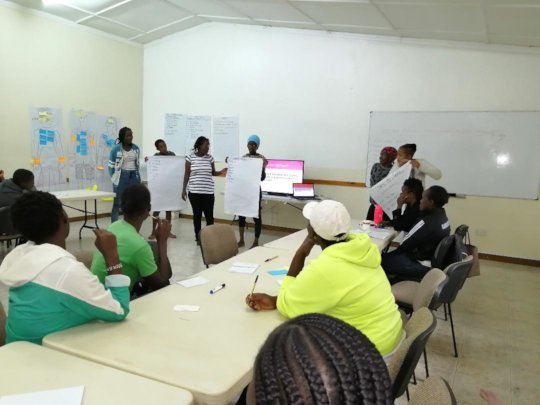 After the completion of door to door mapping and data collection from young moms in different slum areas of Nairobi, young moms who were interviewed got an invitation to attend program design workshop to dive deep, share knowledge and opinions that would shape the SECURE FUTURES program. Secure Futures program is poised to utilize girl-centered approaches, design and implement activities in safe sports spaces to increase the social impact support, life skills and livelihood opportunities to young moms.
Employment +Entrepreneurship Girls At The SCB's Annual General Meeting
Employment and Entrepreneurship project girls were invited at the annual general meeting of the standard chartered bank to showcase their skills and what they have been learning in their respective courses. The one day event was attended by the bank's staff and various invited shareholders of the bank who had an opportunity to visit and witness firsthand what the bank is doing in support of community. The event doubled as a launching pad for the bank's future makers initiative, a global movement to tackle inequality and promote greater economic inclusion in the market with an ambitious fundraising goal to empower the next generation to learn, earn and grow.
Occupational First Aid Training
As part of 'Breaking The Barrier' initiative and making sure that girls and young women are having economic development pathways into male-dominated sports careers, over 20 participants were enrolled into occupational first aid trainings. The 3 weeks trainings is focusing on topics such as : techniques and equipments,lifesaving procedure respiratory problems, heart and circulatory problems, wounds and bleeding, bone joint and muscles injuries, nervous system problems, environmental injuries, foreign objects,poisoning,bites and stings. After the graduation, participants will be able to: assess, prepare and respond to emergency incidents, monitor risks at work place, manage medical and injured casualties as well as managing emergency incidents scenes. These trainings include both theory and practical sessions and are conducted by Kenya Red Cross society inconjuction with VAP.