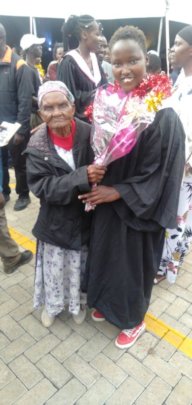 18 year old Monica joined by her grandmother was amongst the last batch of 2019 Employment and Entrepreneurship participants that graduated early in the month of December. Monica who has (moderate) intellectual developmental disability was enrolled at Nile Road special school at the age of 10 years and participated in VAP's football based life skills programs which she graduated and later on enrolled into Employment+Entrepreneurship project focusing on Catering+ Pastry course. "Am happy to see my granddaughter completing her course and ready for job opportunity and work just like any other person." Said Monica's grandmother.
Teaming Up For Good
A one day interactive session on sexual reproductive health and presentations of re-usable sanitary towels for girls participating in the Goal project and Skillz league was conducted by Huru international and staff from local standard chartered bank. The bank's staff and girls engaged into one-on-one mentorship talks with girls opening up and discussing freely on their life challenges and experiences.Additional lessons covered included financial topics: savings, budgeting and banking amongst others. Participating girls were handed sanitary pads, bar soaps and under wears courtesy of Huru international.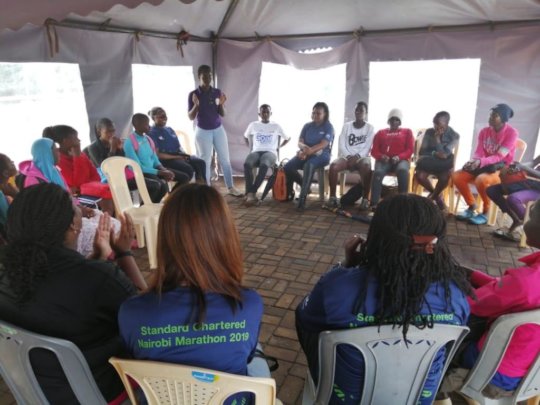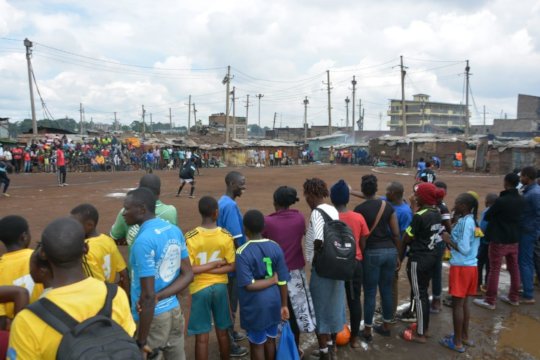 World Aids day wouldn't go unnoticed without the participation of 30 teams of both boys and girls in the Kick 'N' Test football tournament held at the Eastleigh community grounds. With focus on creating awareness of HIV Self-Testing to the youth and the entire surrounding community, and promotion of voluntary medical male circumcision being at the centre stage, football was the major combining factor. Winners of both categories, male and female were based on how many team members and their respective fans were tested on HIV as opposed to the number goals scored by teams on the football field. Male teams with most voluntary medical male circumcision referrals were awarded medals.
HIV Self-Testing
Participating youth players and the community had an opportunity to know more information about Hiv self-testing kits and the benefits of voluntary medical male circumcision services targeting adolescent boys.VMMC referrals were made to nearby clinics and other VAP health service providers including: Eastern Deanery Aids Relief Program (EDARP), Family Health Option Kenya (FHOK) and Doctors Without Borders. "I used to fear visiting VCT clinic to know my HIV status and get asked a lot of questions, but now I can instantly know my HIV status using the kit" Said 18 year old Kamau.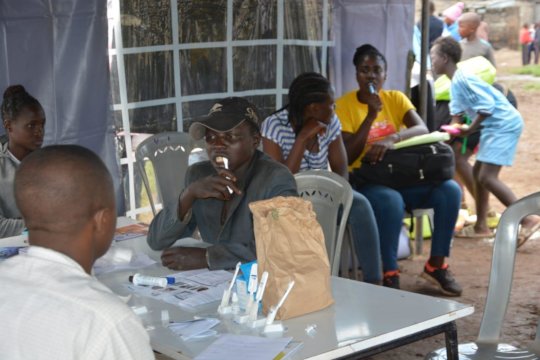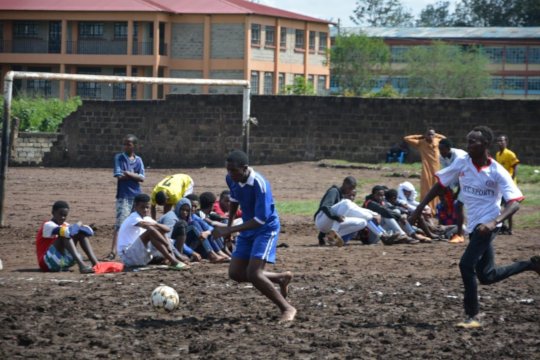 For the last couple of weeks since schools closed for long holidays, many community fields across Nairobi have been kept busy despite the heavy rains that have been pounding the city. Millennials of different age categories ranging from 13-22 years have been involved in the Skillz football league that promotes voluntary medical male circumcision targeting adolescent boys, with referrals made to the partnering health medical clinics. The long holiday season has a been a prime period for the promotion of VMMC both surgical and non-surgical services. The event has been a supplement to the ongoing Skillz Kenya, HIV awareness project that runs weekly in schools and communities and forms as a curtain raiser for the Kick 'N' Test VCT football tournament that is celebrated on December 1st during World Aid's day.
A Ride For Circumcision
A bee hive of activities including referrals for voluntary medical male circumcision, targeting adolescent boys from the ongoing Skillz football league has been crowding several football grounds during this long holiday. A total of 30 have been involved in the 4th edition of Skillz football league, while going through 'Make The Cut' football based activities that are coated with VMMC messages. The transportation to the nearest clinics for both surgical and non-surgical circumcision services are done by VAP's standing by motorcycles.
GIVING TUESDAY,WE NEED YOU!!
This #GivingTuesday, @GlobalGiving is giving away $500,000 in matching funds to its nonprofit community members. How much we earn depends on how much you give! We've only got 24 hours—help us win big. http://www.globalgiving.com/1885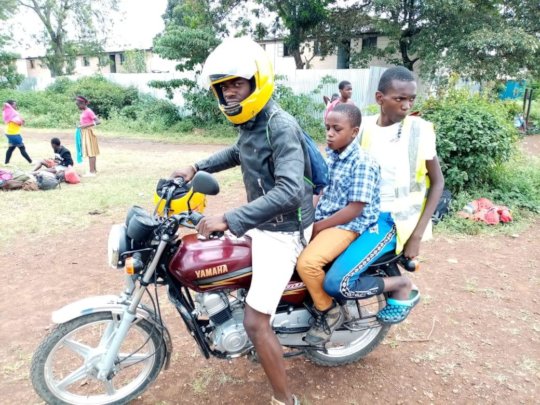 WARNING: Javascript is currently disabled or is not available in your browser. GlobalGiving makes extensive use of Javascript and will not function properly with Javascript disabled.
Please enable Javascript
and refresh this page.