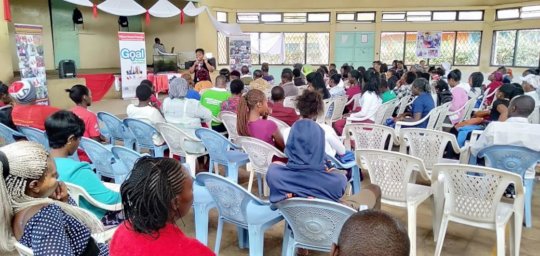 Over 60 girls and young women recruited from VAP's programs assembled at Jericho social hall for the 'Employment + Entrepreneurship induction and career awareness workshop that would usher them into their economic empowerment pathways. Accompanied by their parents and guardians, participants were taken through the nitty gritty of their chosen careers by various professionals from Unity College of Professional Studies, and other professionals who provided counseling services as well job marketing and business development information.
Heads Together For Good
A total of 20 young female under the belt of 'Employment +Entrepreneurship' project will have an opportunity to further their sports careers by undertaking sports management course provided and supported by Kenyatta University through the recreation and sports development department. The partnership is a springboard to other partnerships to follow that would include research studies surrounding HIV Kick 'N'Test community football tournaments, voluntary medical male circumcision and how to successfully increase uptake of biomedical services amongst the hard to reach population within our communities.
VAP Attends TVET Conference
The permanent working group on Technical Vocational Education and Training Authority, (TVET) of the ministry of Education organized a 3 days Hands on the Future Skills Show at the Kenyatta International conference Centre. Attended by VAP's 'Employment+ Entrepreneurship' project representatives, the event's objectives were to: sensitize youth and their parents to the multitude of career possibilities and training opportunities that exist in Kenya, provide a forum for public and private TVET institutions, NGOs, private companies AND development partners to showcase their technical, vocational, entrepreneurship and life skills education and training opportunities; and improve the image of TVET among students and the general public. Additionally VAP used the platform to demonstrate the combination of football and economic empowerment to its youth through various vocational training courses.
VAP Partners With Kenya Community Development Foundation
As a new partner to Kenya Community Development Foundation (KCDF) in implementing livelihood program, VAP formed part of the team that was invited to Beacon of Hope for a series of trainings, peer learning and experience sharing. Through KCDF's livelihood grant, the main aim is to be more deliberate in strengthening all partner organizations' resource mobilization, communication, marketing and branding among other things. A visit to Beacon of Hope was of great exposure to share and learn about their great success in implementing social enterprise models alongside their other initiatives, using their own resources to fund some of their own activities hence ensuring sustainability.