In downtown Nairobi I waited for Eunice Ndeche, the founder of Capitol Area Soccer League (www.globalgiving.org/1885) to show me to his offices. The 4-lane highway was clogged with Matatus and buses. I noticed a few horse carts dodging traffic in the nearest lane, opposite the Kenyan Central Bank. Only there weren't any horses or donkeys, just burley men dragging supplies on their carts. I reached for a camera to save this strange juxtaposition of modern and archaic. One of them smiled at me as he gave the yolk of his cart a yank. He smiled at me. "Hey wazzap!" he said.
CASL's offices were on the 6th floor of a 20-floor high rise. As we boarded the elevator, I thought, this doesn't feel like a typical globalgiving project! I thought our projects are village-based grassroots operations. When I saw CASL's office I understood. CASL (http://www.globalgiving.com/pr/1900/proj1885b.html) and Best Buddies Kenya (www.globalgiving.com/1741) share one five-foot square cubicle subleted from another company. CASL has a staff of 18 with 2 full time employees. They all cram in here when they need to. This is what "cost-effective change" looks like; two NGOs crammed into one cubicle because there isn't enough donor money to support the Geneva convention's minimum human space requirements. Each of these organizations operate on less than $5000 a year and they need your help. They don't have money for big ad campaigns or media consultants. The staff is a handful of 20-something youths trying to curb the spread of AIDS. Imagine what you could do for them if you just re-tweeted their needs or used GlobalGiving's new "tell a friend" tool to help them as a "virtual volunteer." We're on a listening tour of Kenya because there is so much more we can learn from our client organizations in person. The organizations I've seen are not always as I expected, but I have been impressed with what they've done with our donors' support.
CASL is planning a soccer tournament in two weeks (www.globalgiving.org/1885). They wanted to host 16 teams but currently only have funding for half that. They've successfully courted ColaCola and SarafiCom (mobile phones) in the past but the economic downturn has put a damper on youth sports AIDS prevention. They expect to host 60 players. All will be tested for HIV and will partake in AIDS awareness education. I got them signed up on twitter and you should be able to follow the tournament live on March 28th, 2009 (@endeche or @globalgiving on twitter). In addition they have a youth network of teacher trainers who go to schools and combine sports education with AIDS prevention messages. The two full time staff look to be in their twenties. These truly are youth teaching youth. Michael Kremer wrote that for what it costs to treat one AIDS patient for one year, you could prevent new infections worth 25 to 110 years of life. If just one of their four projects was fully funded, over 1800 years of combined AIDS-free living would result (using Michael Kremer's upper estimate and the AIDS treatment cost per person). Nancy Waweru manages a similar project to empower girls and educate them about AIDS (www.globalgiving.org/2221). Her workshops emphasize "reproductive health," meaning they discuss healthy relationships, sex, abortion, menstruation, STDs, and fighting stimga. "What is one organization you really admire for the work they do?" I asked Nancy. She immediately replied "Step by step!" "Why?" "They are new but have already done much. They hosted a very effective workshop on reproductive health at Kaimbo. They also got CocaCola to sponsor it. And they work with 'deviant girls.' They are not so easy to work with." Great Nancy! Thanks to you and Eunice for meeting with me. It was an honor. And know that if our projects recommend another organization, you can bet we'll invite them to join GlobalGiving in the future. This is how we uncover great new organizations. Whether big or small, new or old, any legitimate, recommended, social media-savvy organization has the same opportunity to attract funding on our site.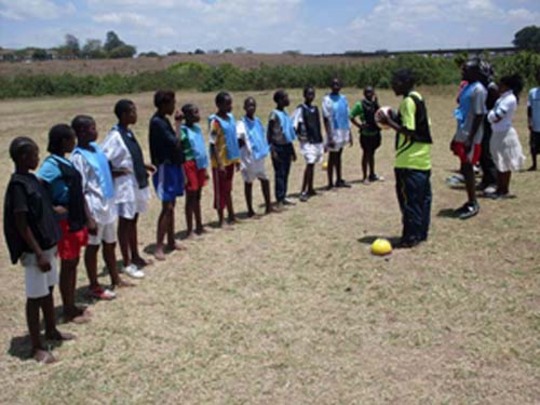 We are very thankful to our friends and Global Giving donors who made a contribution towards the Kellogg Foundation competition. Though we did not emerge winners we were able to raise more than $1000 towards the Mrembo program. Through your generous contribution we were able to organize a girls soccer clinic for ours girls team in Kiambui slums in preparation to an International soccer clinic to be held in April. We also intend to hold a girls workshop targeting more than 50 girls from Kiambui,Kinyago and Majengo slums as we launch our revised curriculum. The curriculum is a series of soccer activities each with a topic and reproductive health messages. Sexual Assault, Early pregnancy and marriages, Sex and Relationships, HIV are some of the topics addressed. On a sad note, we lost our girls captain Judith Auma in a fire tragedy that claimed more than 100 lives. May her soul rest in peace. Your contribution counts and through it we are able to reach and transform lives of many girls in Majengo, Kiambui and Kinyago slums.Tunashukuru!(We are grateful). We appreciate your comments on our progress reports.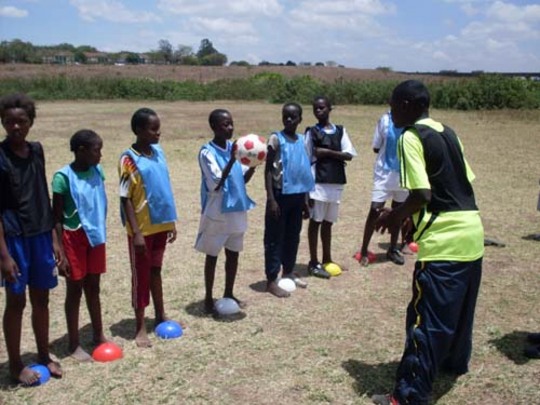 27th Dec 2008 marked a great occasion for Game On! Youth sports affiliated teams as they all participated in "Break the Silence" campaign football tournament. A total of 20 under 14 teams gathered at Makongeni sports grounds with higher expectations of having fun, learning life skills and playing the game of football.
Before the start of the game, teams were taken through some life skills teachings from their coaches and volunteers who were in attendance. The tournament atmosphere was quite exciting as all the participating youth had a lot of fun and everyone had a chance to play in the game.
A total of 20 Game On! Youth sports trained coaches were at hand to make sure that every kid had a chance to play and learn the basic life skills. The tournament was played on a knock-out basis that saw Kinyago youth and Masa sports getting into the finals and Kinyago emerging victorious by 2-1.The winning goals for Kinyago were scored in the second half by Andrew Kimani with Masa getting theirs through John Mwanza.
The guest of honor during the tournament was Mr.James Wanjala a former national soccer team captain. He congratulated the participants for taking their time to show case their soccer skills and life skills that is more important in anyone's life. Mr Wanjala said "I would also like to thank the Game On! Youth sports project for its commendable job of giving out an opportunity to young kids to develop their skills and moreover the life skills education towards their whole life. The Game On! Youth sports trained coaches are a good example of the youth coaches that any sporting society would ever dream to have"
We at Game On! Youth Sports project would like to THANK our partners through Global Giving for supporting and assisting us to make all this to happen. It's our goal to train more coaches on Game On! Skills and providing all sports opportunities to hundreds and thousands of children and this can only happen through your generous support..
WARNING: Javascript is currently disabled or is not available in your browser. GlobalGiving makes extensive use of Javascript and will not function properly with Javascript disabled.
Please enable Javascript
and refresh this page.