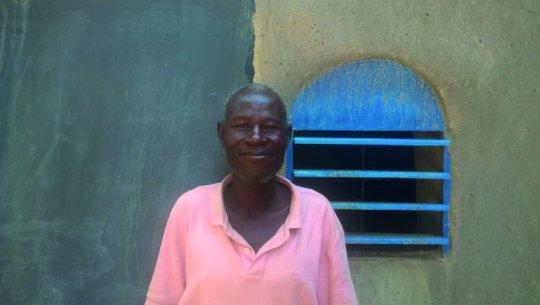 Trainer masons: a future-looking job
Trained in the technique in 2004, David K. is now a Nubian Vault entrepreneur and trainer mason, having built more than 60 Nubian Vaults and having traines'd many apprentices. This season, he received support from AVN's Training Team on how to use the new monitoring tools. He explains the advantages thereof:
The trainer's role
"As a trainer, I am and always have been "the oldtimer" to the young people on my team, so I try to get close to them to better understand them and to better train them. I've always used the Mason's Manual to explain the technique using images. Those who have been to school can read, and I explain things to them. On-site, if a mason has trouble with a certain job, I observe what he's doing and correct his positioning. The way we use the tools and how they're applied to the work is essential. I pay close attention!
The time spent on training is very important, and I take the time to do it properly. Once I even convinced the team to work with a Swiss engineer for free to learn new techniques. On my own worksites, I always let the client know that I'm going to take extra time for training. Some of them have even paid for members of their family to be trained!
I also try to reproduce as best I can the pedagogical advice given during the annual Masons' Congresses. I always say that if I train a lot of people well, I could get work for a lot of masons. Thus far, at least 12 of my trainees have become artisans, and I'm very proud of them."

Evolutions in training methods
"The creation of the Trainee Evolution Booklet is an opportunity for training: apprentices know where they are in their journey and that pushes them to develop their capabilities. For example, Wembié [editor's note: one of David's apprentices] knows the difference between the operations for which he is already proficient and those for which he still needs to acquire or strengthen his skills. He is therefore better able to identify his needs.
At one point, I had three worksites to manage at the same time and my teams had to occasionally quit working to go back to placer mining. I then had to train new masons to rebuild my team and to meet demand, but it was difficult to do so quickly. Now, with the new training methods, I know that I could do that in an efficient way, which is encouraging."

---
A new NV economic centre in Mali
Two years after the Electrified Activity Area opened in Konséguéla, Mali, a new Nubian vault project led by GERES is now being carried out in the commune of Koury: a Productive Energy Centre (PEC). This will allow about 15 rural companies to carry out their work and to boost local trade, which will, amongst other things, benefit the 54,000 inhabitants of the commune (which covers 16 villages).
Managed by the commune of Koury's Association of Artisans and Workers, the PEC will be supplied by electricity coming both from a local network and from a 100% renewable plant (solar energy and plant-based fuels). This hybrid system will guarantee the autonomy of the artisans in the event of network problems.
The decision to use the NV technique to build this centre makes sense because it will allow artisans to work in optimal conditions given climate constraints, it will boost the impact the project has in terms of energy (reduced CO2 emissions, local materials) and finally, it will allow local young people to be trained and employed in the field of NV masonry.