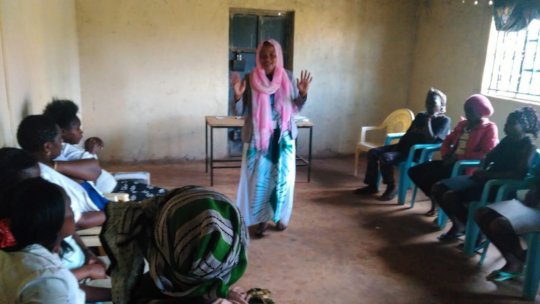 Dear Friends,
This year, you were busy. You:
Provided a provide informal school program for 48 underprivileged children who live in the Shauri Yako slum in Nyeri, Kenya.
You hired a teacher and bought books for those kids.
You provided meaningful learning and sports activities to at-risk youth.
You provided resources and counselling to youth about their reproductive health.
You supported a Scouts program that helps kids the skills and confidence to become leaders withinn their communities.
You kept the doors open to the Shauri Yako Community Youth Support Centre (SYSC).
You did all of this through the generosity of your donations to SYSC, a very small, grassroots Kenyan charity that support and empowers the kids and youth in the Shauri Yako informal settlement so they may lift themselves from poverty.
If you'd like a little more detail, please read on. Otherwise, please know that, without your support, we would not have been able to do tis work. As we count our blessings this Christmas, you are on our minds.
Informal school:
When we started informal school in Shauri Yako community in 2017, we did not anticipate the demand would be high - we just wanted to fill the gap in the community. Almost two years later and we find ourselves with 48 children attending the classes every week, one fulltime teacher and three volunteers. The need has grown because of the population of unemployed people settling in Shauri Yako community and the cost related to going to formal schools, which many cannot afford. We appreciate all the help that we get from donors, Friends of Shauri Yako and people of Nyeri town who have donated used books and chairs. We also highly appreciate the volunteers who give their time to teach the children. Every bit of help counts.
Scouts program:
We are pleased that there will be opportunities for employment for SYSC scout program members.
On November 2018, the President of Kenya HE. Uhuru Kenyatta announced that youth in scouts movement will be in future be given priority in government services and armed forces employment. This is good news for SYSC's longstanding Scout Group, which has 45 active members who have completed training.
Skills training:
SYSC is working with the government to provide skills training opportunities for youth.
The Government of Kenya has identified vocational training as one of the ways to create jobs for youth and to reduce poverty levels, while also modernizing and reforming the economy and boosting development. The government is planning to build vocational training institutes in every county, aimed at giving youth technical skills that will prepare them for employment or entrepreneurship. The student who will join the Technical Vocational Education Training (TVET) will be entitled to a 30,000 (Kenyan shilling) tuition loan. SYSC will work very closely with the government and you, our donors, to provide the support for youth to go to vocational training.
New project in 2019: Youth Life Skills and Livelihood Project
Based on the experience and the needs that we see in the youth, we have decided to have a new project that we believe will have a better impact on the beneficiaries. Youth Life Skills and Livelihood project purpose will be to help the youth to look in to factors that affect their life situations and develop strategies to deal effectively with the obstacles they face in order to become more active participants in the work place. We look forward to telling you more and hope we can count on you for your ongoing support.
Wishing you peace and happiness this holiday season.
Joe