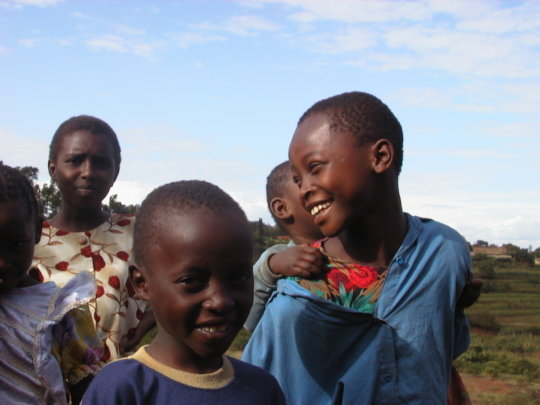 Jambo Friends!
We are thrilled to let you know that we've met our goaland are de-activiting our "Provide Job Skills to Kenyan Slum Youth" project on Global Giving. Thank you, and read on for a snapshot of what we accomplished through your help.
Please continue to support us through our newly launched Livelihood & Life Skills for Impoverished Youth project. We will train youth in construction trades, tailoring and computer skills, and support their success through health education and life skills training. Everything we do is achieved through hard work, funding from Global Giving donors and the support of volunteers in our community.
Over the past 8 years, we are proud to have:
Offered many rounds of job skills training in high demand trades like tailoring, welding and masonry
Forged partnerships with the private sector and local trade associations to offer apprenticeships
Rebuilt our drop-in centre so it is not just a refuge from the streets, but also structurally sound
installed 2 flush toilets in a community where up to 30 people shared each pit-latrine
Built a computer lab and provided basic computer training
Offered ongoing soccer, Scouting and music and theatre programming to give youth an outlet and confidence
Delivered reproductive health education to prevent high rates of teen pregnancy, STDs and violence against girls, including peer-led training within schools and radio programming that aired for 45 minutes twice a week
Collaborated with a local church to provide medical checkups and treatments
Started an informal school that operated at capacity to help give little kids who cannot afford to attend school a shot at an education.
This project occurred over a remarkable period of time for Kenya. The country suffered the worst drought in over 60 years as we began this project, with over 11 million Kenyans needing food aid and most in our community only able to afford 2 meals a day. We worked hard with government representatives and other stakeholders to brainstorm ideas for food security and poverty reduction. 2 fires ravaged our community, leading to loss of homes and even 1 life, despite our ongoing petitioning to local government to instal a water point (and sewage system). And political turmoil after the disputed presidential elections polarized the country, creating uncertainty about the future, taking a toll on the economy and making life even more challenging for the people we serve. On the bright side, after 52 years and lots of advocacy from SYSC, the Kenyan government agreed to give title deeds to the residents of Shaurio Yako slums. This brought enormous peace and security for the people here, some of whom had been living in uncertain since being displaced during the Mau Mau freedom war in the 1960s.
Again, our achievements are possible because of your generosity. We think the best way to show how deeply your support was valued is to hear again from some of its beneficiaries.
"I was very hopeless, desperate for something to do … to make a living. Here in Shauri Yako slums … everybody here is fighting for survival, women are vulnerable to abuse, and sex related diseases, HIV/AIDS and being sold to slavery. I had given up, and SYSC's program has given me hope… I want us to form a cooperative with others and start a small business or Jua kali, making affordable women's sanitary pads." - Mercy N -
"I am 48 year of age; I learned how to use a computer and how to operate an email account here at SYSC. Today, many Kenya government services are offered online, and most people in Shauri Yako community are not computer literate, but we can learn and access the free computer services at Shauri Yako Centre.". - Jane M -
"I am 19 years old and unemployed single mother of two children. I didn't have knowledge of reproductive health until I attended SYSC Reproductive Health Program here early this year. I am now able to take care of myself, but many youth here are ignorant. There is a huge need for RHE in our community. Girls from 14 years who live in Shauri Yako, Manjengo and Kiawara slums are always at risk. Our custom doesn't allow parents to teach their children about reproductive health, as a result we make many mistakes that have painful consequences. SYSC project was very helpful. -Ngendo M _
We know this world has many causes that need support. Thank you very much for directing yours to the youth of Shauri Yako. Asante sana!
Joe Mwai