Dear friends from Karama's Bakery,
The past few months have been a whirlwind of deliveries and orders; weddings, graduation parties, children's festivities, birthday celebrations and community events - many have been served with the delicious produce from the Karama Bakery. The Bakery's name got established in the direct community and people start to know our place… this is a great start!
The group of committed women are working together as a team and sharing in the workload to get the best breads, pizzas and sweets ready. They all have received training and instruction, and a more or less fixed menu is established by now. Which doesn't mean we are not open for innovation and trying new recipes – the women do! The Bakery's staff gets paid according to the hours they work each week in the bakery and they started to experience the positive feelings of independence and empowerment when they have control over their time, income and spending. One lady who recently joined the bakery's team enclosed that she was delighted with her first salary and eagerly used it to buy gifts for her sisters and husband to mark a special occasion.
Did you notice that Karama is also promoting this bakery on social media?!
The management team is eager to take more steps however to reach a more sustainable production level for the Bakery and improve our business management. This is where your input is so much needed and welcome.
First Action Point: One young lady will be trained in more management skills, so she can be more pro-active in the daily management of the bakery; taking responsibility for preparing orders, tracking sales and purchases and support the marketing of the bakery.
Second Action Point: More funds will be devoted to branding and marketing, with developing an official logo and label for the bakery being a first step. This will be a great addition to the deliveries, who will then be able to be marked with the official Karama name and logo and contact details. This added visibility will lead to more orders inshallah and more economic activities for the women.
We hope you will join us in these efforts and continue to support the women from Karama's Bakery! A big thank you for your solidarity.
Warm wishes from the whole Karama team.
Keep an eye on our facebook page for more pictures and updates!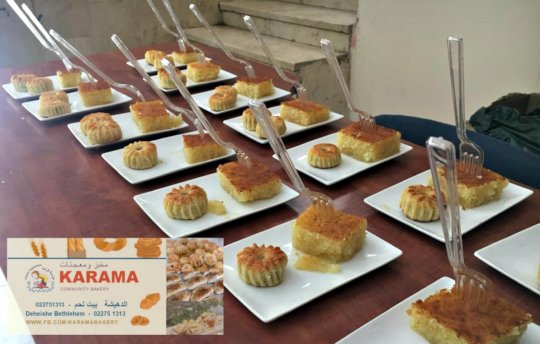 Links: