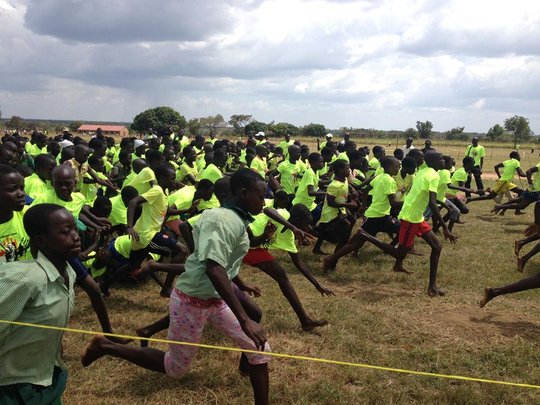 Thanks to the support of many contributors, and our dedicated staff in Uganda, here's what AUCF accomplished in 2014:
The James Fee Memorial Patient Ward is open; the Kristina Clinic is ready to serve more patients with more severe conditions.
We constructed new staff quarters and will soon double the size of our medical team.
We acquired the region's only ambulance, which is in heavy use transporting patients.
We raised the support needed to bring running water to the Kristina Health Center.
The Fourth Annual Nike Run Awake brought hope and inspiration to 12,000 runners and supporters from Otuke District, Uganda.
Our medical staff treated over 3,000 sick and injured patients, turning KHC into the region's leading medical facility.
In 2015, we're focused on bringing fresh water to all buildings of our health clinic, in an effort to further control the spread of disease. We're also developing an outreach program, with the help of our new ambulance. This will allow us to bring affordable health care to the people the the surrounding villages.
Thank you!
The Achon Uganda Children's Fund Team
In the past six months, we have completed construction on our second Staff Quarters building, and hired eight new staff members. This has greatly expanded our ability to treat patients. Further, we purchased an ambulance that is used both to transport patients to our clinic, and take critical patients to the hospital in Lira, Uganda.
Four years ago, AUCF dug two wells in Awake Village, changing life dramatically for villagers who used to hike miles to a stagnant pond, and making it possible for us to open the Kristina Health Center.
But as word spreads about KHC, more patients arrive every month, many with conditions that require serious treatment. We are thus taking on our next important project: bringing water to the clinic itself.
Today our dedicated support team fills basins at a pump 30 meters from the clinic and carries the water it to treatment rooms. Our medical team makes this work, but as anyone who has spent time in a hospital can tell you, a lack of running water is severely limiting.
We have set a goal of raising $30,000, the cost of this filtration and delivery system. Please help us reach this goal!
The demand for high quality healthcare in Northern Uganda is extremely high. Every day at the Kristina Health Clinic, we have more patients lined up waiting for treatment than we can see.
Two barriers that prevent us from providing the care that the community needs are insufficient staffing, and an inability to reach surrounding communities. We're investing in our clinic in the following ways, to overcome these barriers:
1. Hiring 9 additional staff members, and building a Staff Quarters (pictured below).
2. Purchasing and operating an ambulance, which will be used both for emergency services, and to bring healthcare to surrounding villages (pictured below, with our founder Julius Achon)
Thank you for your continued support in making these investments possible!
The Achon Uganda Children's Fund team
WARNING: Javascript is currently disabled or is not available in your browser. GlobalGiving makes extensive use of Javascript and will not function properly with Javascript disabled.
Please enable Javascript
and refresh this page.