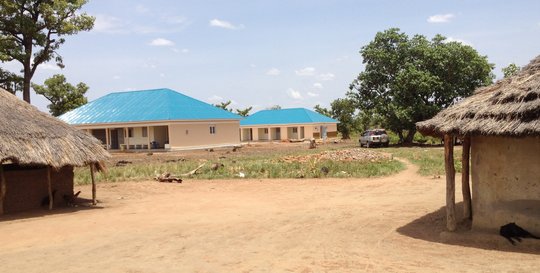 Last week, Monica, a four year-old girl with fever and chills, was carried—sweating and listless—by her mother approximately three miles from their hut in Awake village to Kristina Health Center (KHC). Upon arrival, Monica was registered and escorted to the shaded veranda outside with her mother until her name was called. She was carried into a consultation room and examined by senior clinical officer Achar Emmanuel, who recommended a blood test as he suspected she had contracted malaria. A drop of her blood was inspected under the microscope by laboratory technician, Joseph Joka Walter, for the presence of malaria parasites, and the preliminary diagnosis was confirmed. A prescription was written for the medication which Monica's mother took across the lobby to the pharmacy to be filled by clinic manager John Bosco Owero. She paid 5,000 Uganda Shillings (UGX) (about $2.00 US), and promised to pay the remaining 5,000 at a later date. Mother and Monica departed for home. A potentially life-threatening disease had been identified and properly treated.
Such is the story of Kristina Health Center patient number 1,000.
Following the formal dedication on August 25, 2012 in Awake village, Uganda, Kristina Health Center opened its doors to the community and began treating patients on October 1, 2012. Julius Achon's dream— bringing local healthcare for the first time to thousands in Awake village, and beyond to the wider Otuke District in Northern Uganda—was realized. Named after Julius' mother, Kristina, killed in Awake in 2004 by rebels from the Lord's Resistance Army, KHC is providing essential and life saving healthcare to the surrounding community. As the month of December opens, over 1,000 patients have been seen and treated. Prior to the clinic opening, patients were required to travel, in the best of cases, four miles—and frequently more than forty—for the treatment required.
Kristina Health Center consists of a ten-room clinic, with consultation and treatment rooms, a laboratory, pharmacy, office, lobby and shaded veranda. Clean water is obtained on the KHC campus via a deep bore-hole well, electricity is available via solar power and KHC is furnished, including essential medical equipment, supplies and medicines. A medical staff of five, living on campus in an adjacent four-unit living quarters, sees patients Monday through Friday, and on an emergency basis over the weekend. The all-Ugandan medical staff consists of a clinic manager, senior medical clinical officer, two comprehensive nurses (RN's), and a laboratory technician/HIV counselor.
Patients begin arriving at dawn, and sometimes the night before, and are seen on a first-come first-served basis, with the exception of triaged emergency treatments. Patients traveling (on foot or bicycle) up to 20 kilometers for treatment are not uncommon. Local Otuke District healthcare workers have utilized KHC for adult blood testing and childhood inoculations. Thanks to Rotary International, vaccines requiring refrigeration are available for inoculation due to the only refrigerator/freezer in the local healthcare network, which is powered by the clinic's solar power system.
Patients are charged a nominal fee for consultation, and medicines are provided at cost, plus a small markup. Those unable to pay are not turned away, but treated and required to clear their balance before returning for treatment. In addition to the normal payment with Ugandan Shillings, recent patient payments have included a live chicken and harvested crops – which the staff used for food. Self-sustainability is the goal for Kristina Health Center; this may take a period of years. During the interim, funds will be provided from the USA and Australia to maintain KHC operations.
So during this holiday season, we ask our generous supporters to continue providing financial support with a one-time or monthly donation. Please visit Global Giving to help us meet the needs of patients like Monica, and the thousands of others who will follow her through our doors in the coming months.
Links: