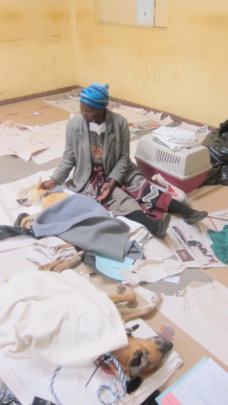 This project uses animal care to promote responsibility and empathy; limitations of which are reflected in Swazi national statistics:
Children without adequate family care represent around 45% of Swazi children.
Among children aged 2-14 years, 88% report at least one form of physical punishment at home.
One of three females experience some form of sexual violence as a child. Male relatives are the most frequent perpetrators of physical and sexual violence
Approximately 3 in 10 females experience emotional abuse as children. Female relatives are the most frequent perpetrators of emotional abuse.
In conjunction with the community spay day, we provide training in how young children develop and learn, and factors that influence this, so as to promote effective parenting practices at family and community level.
Feedback from a recent training showed a 36.76% increase in participant's understanding of how every day attitudes and practices driving domestic abuse are rooted in how we raise and socialize our children in Swaziland.
"This training is particularly relevant in the context of Swaziland due to the prevailing attitude that corporal punishment is the only correct form of discipline. The high rate of gender-based violence in the country can be understood once a person goes through this training. It is very relevant towards ending the harmful childhood development practices that are accepted as the norm and are damaging the psyche of our future generation."
"I would highly recommend this training to others because this is one training that is an eye opener. I have learnt a lot and realized that our children don't just act funny, but that how we raise them affects them the most."
Our 2018 spay day is scheduled for June 30. Providing much needed vetinary services to dogs and cats gives community participants first-hand exposure to the benefit of a well-cared for animal. This promotes responsibility and empathy, ultimately aimed at changing social norms driving the high rate of domestic abuse and neglect of children in Swaziland.
Your support helps make this happen. Thank you.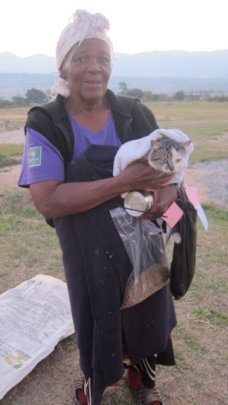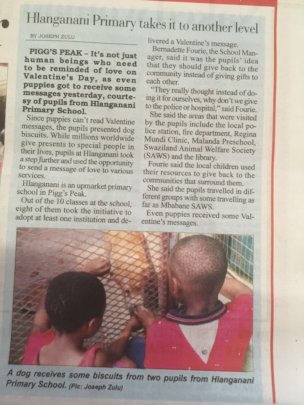 The secondary objective of this project is to raise awareness about how to use animal care to promote responsibility and empathy in young children. The "why and how" of this is explained throughout the process of conducting spay days.
For this reason, we encouraged Hlanganani Primary School to adopt two cats, so students could gain first hand exposure to the companionship that comes from a healthy and well looked after pet.
The school's Valentine tradition is to carry out activities around the theme of "spreading love in our community". Students divided into groups and decided on a range of activities to share "Valentines love" all around. One group made dog biscuits and took them to Swaziland Animal Welfare Society.
The older students took it a step further by donating a fridge to the Domestic Violence Unit of the Piggs Peak Police Station. This fridge is to stock refreshments in the interview room. Interviews are a critical step in the process of securing convictions for domestic violence cases, a long and difficult process. A fridge with a ready supply of refreshments to offer during the breaks necessary in this process provides a small but heartfelt token of support to people brave enough to report abuse.
A clear indicatation that these students are developing a sense of empathy and responsibility towards others.
Our 2018 spay day is scheduled for June 30. It will again be at Ndlalambi Primary School. We have been receiving so many requests from community members who missed out (or were too afraid) to bring their animals in 2017, so we decided to repeat the venue. The teachers from the Preschool across the road have reported that parents have even been asking them "when is the next spay day".
Because of your continued support, we are able to make this happen. Thank you.
Thabsile was given a kitty she named Lulu by Vusumnotfo. A few days after bringing the kitty to her homestead her dog's puppies died. At which point, Lulu started nursing on the dog. Both the dog and Lulu content and happy with this.
I started to share this photo during various training activities at Vusumnotfo, mainly because I thought it so unusual and interesting. Community participants in our early childhood development training took it further.
After laughing and hearing direct from Thabsile that this photo was for real, they started reflecting. Their train of thought went like this - 1) this kitty came from Vusumnotfo, where the dogs and cats get along, 2) they get along because they have what they need - food, shelter, and love, 3) so what does this say about our own children, who often do not get along? 4) clearly, we need to create better relationships with our children.
It is not about resources. It is about the quality of interaction between a child and caregiver - "a truly rich person is one whose children run into his arms even when his hands are empty". Happy Thanksgiving. And thank you for caring about our activities and others the world over.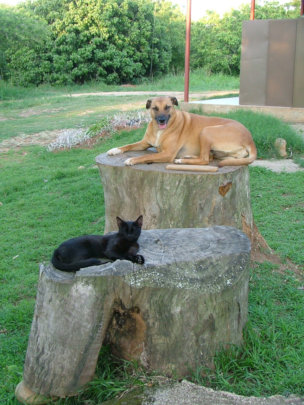 WARNING: Javascript is currently disabled or is not available in your browser. GlobalGiving makes extensive use of Javascript and will not function properly with Javascript disabled.
Please enable Javascript
and refresh this page.