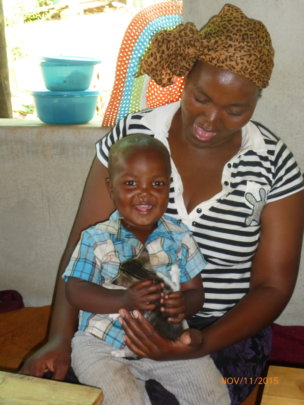 When you view the last picture in this report (unfortunately, not an uncommon sight), you will appreciate how the lack of animal care results in difficult animals, which drives people's fear of their own dogs or cats, which contributes to the continued rough treatment of these animals... As children take what they see daily as normal, this cycle is compounded negatively.
Contrast this with a person who has experienced the enjoyment of interacting with a well cared for cat or dog.
As I live right next to our office and training site, my dogs (DJ, Kookie, Rhino and Ziggy) and cats (UFO, Funken and Ella) interact regularly with participants attending Vusumnotfo training activities.
It gives me great pleasure to witness participants transitioning from first day fear, to second day nervousness, to third day tolerance, to fourth day greeting the animals by name, and by the last day of a workshop, sharing their lunch scraps with my dogs and cats.
The picture of Thobile and her son was taken on the last day of such a workshop. The picture of Ziggy, well Ziggy just assumes that she belongs every where and that every one loves her …. This unconditional love being the gift that a well cared for animal gives.
Thank you for your support in helping make this really fun project happen. We appreciate your help in passing the message that animal care services, combined with education on how to care for and enjoy the companionship of animals, is a wonderful way to promote the development of empathy in young children (and by extension, our humanity).