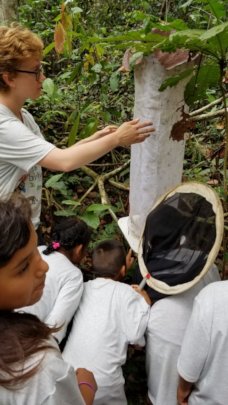 Dear supporters of ASA
It is hard to believe it has been a few months since our last report! Here at Finca Las Piedras we have been working hard to reach a new sense of normalcy. Although challenges remain and many former plans were changed, we have accomplished things we did not think were possible just a couple of months ago. This would not have been possible without your unwavering support, so thank you!
Last time, we shared with you our struggles about the course of action to take with our environmental education project for the year. In August we started "A Minute with insects", an online program for kids ages 6-9 based on a series of short videos, where they learn about insect biology. This program is shared through different social media platforms to elementary school teachers, other educators, and the general public. As of today, we have developed 12 videos that reached over 3,000 people, including more than 30 local teachers. We will be continuing this project by releasing weekly videos until the end of November, the end of the school year here in Peru.
In addition to the "A Minute with Insects" program, we have also worked on the co-production of "Milli's Misadventures" (Spanish version), a vividly illustrated children's book about a royal flycatcher who is learning how to catch butterflies in the Peruvian Amazon. The author and illustrator, Allison Stoiser, is part of the ASA community. This book is a collaborative effort with the Amazon Center for Environmental Education and Research (ACEER), a local NGO we have been partnering with for several years now. We are extremely excited to get this book into the hands of thousands of children in Peru and around the world. "Milli's Misadventures" (Spanish version) will be free to download, there is also an audio book for you to follow along. We are officially presenting the book this Friday October 30th, so keep an eye on our social media platforms for more!
This year has been difficult for all of us, but we have never lost hope because we have your amazing support.
With immense gratitude,
Geoff, Johana, & the entire ASA team
Links:
Dear GlobalGiving supporters,
Thank you for stepping up to sustain our work and keep us going during what is a difficult time for everyone. With your support we've successfully overcome the initial obstacles to our conservation and education work in Peru that were thrust upon us by the global Covid-19 pandemic. Instead of shutting down, as many other local organizations have sadly had to do, we've been able to:
·        Continue restoring the Amazon rainforest through reforestation. It's the dry season now in southeastern Peru, which means it's time to prepare for planting trees when the rains return in a few months. We are caring for hundreds of seedlings that we recently planted in our nursery, and when it starts to rain again they'll go into the ground. We will plant Brazil nuts and other trees that provide food for local people and wildlife, including several species in danger of extinction.
·        Continue our critical biological monitoring projects. We're monitoring plant and animal populations and how they respond to the accelerating impacts of climate change.
·        Continue to deliver high quality environmental education to our local kids. Even though we can't reach them physically this year, we've been able to adapt our approach by creating online tools and materials to be distributed to children and their families as they learn from home.
We still have a long way to go, especially given that Peru has been one of the world's most hardest-hit countries by Covid-19. Not only does this crisis negatively affect peoples' health, but it has also erased lots of gains in conservation and education as many people now struggle just to meet their basic needs. We'll keep fighting for the Amazon, and we'll be able to do it because we have you on our side.
With gratitude,
Geoff Gallice & Johana Reyes
Project leaders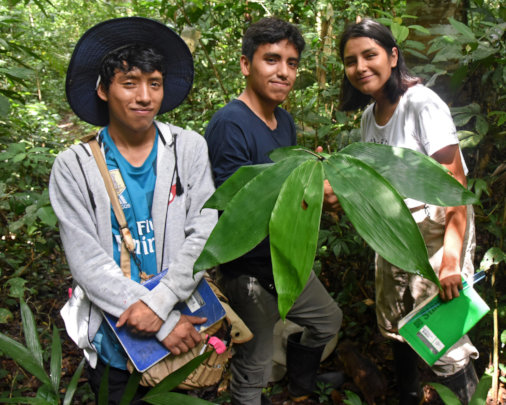 Dear supporters of ASA,
We hope you are staying healthy and safe. These past few months have certainly challenged us all in many ways, but we are grateful to be able to continue working towards protecting the Amazon rainforest.
Our research on butterflies has continued as planned thanks to our dedicated staff and your financial support, and we have recently made some very interesting discoveries that we will share very soon. As you know, we focus a lot of our work on insects, including how they maintain the delicate balance of the Amazon and may help it recover when it is damaged by people. We are excited that our long-term research efforts are proving us with key insights to develop strategies that can improve the Amazon's resilience, especially now that the annual fire season is once again upon us.
Sadly, our environmental education efforts have not been quite as successful this year, mainly since schools are closed for the entire academic year that in Peru runs from March to December. Reaching children safely has been incredibly challenging in our remote Amazonian region, but we are being creative and currently we are developing online activities. We will have more to share about this in our next report. The materials that we have already developed for this year's environmental projects will be saved until 2021, when schools hopefully will be back open.
These are just a few of the things we are busy with and, as the year continues, we are optimistic that we will still be able to accomplish a great deal. Our organization is certainly facing many challenges, but we are hopeful because we have supporters like you! Thank you very much for being there for us, and for helping us to continue to fight for the Amazon during these difficult times.
With gratitude,
Geoff, Johana, & the entire ASA team
Links:
WARNING: Javascript is currently disabled or is not available in your browser. GlobalGiving makes extensive use of Javascript and will not function properly with Javascript disabled.
Please enable Javascript
and refresh this page.