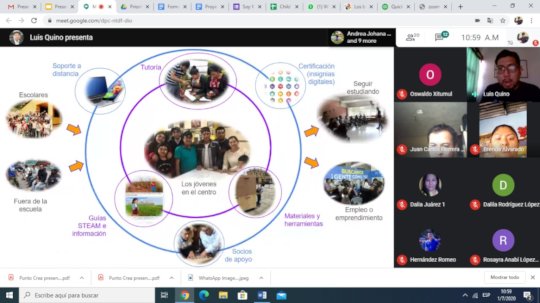 Mira abajo la versión en español de este reporte.
Last month we learnt to what degree monthly donations are the lifeblood needed for Punto Crea to grow. At the beginning of the year we started conversations with Childfund's Guatemala office to set up Punto Crea in communities they were working in.
Childfund has long been committed to Guatemala, building youth confidence, health and education in the communities they serve. But they faced a challenge: it is not enough that young people have the skills, they need to have something concrete to apply them to! This is where Punto Crea could come in: our methodology offers young men and women who have developed leadership skills an opportunity to apply these to tutoring other youth in order to address STEAM learning challenges and master STEAM competences.
But just as we were about to finalize an agreement, disaster struck! Covid-19 forced us all into lockdown. How were young people to meet to conduct Punto Crea activities? It took us another six weeks to figure out with our friends in Asociación de Amigos del Desarrollo y la Paz (ADP), Childfund's partner in Baja Verapaz, how to organize and implement virtual Punto Crea.
At last we have finalized an agreement and have started training a cadre of 16 tutors, including both ADP staff and community volunteers. And here is where our GlobalGiving donors proved essential: if it weren't for your support, it would have been impossible for us to hold out for the time needed to redesign our work and complete negotiations with our new partners. Your support is, in the most precise sense of the word, a catalyst for bigger things. Please accept our most heartfelt thanks.
And please help us find more people like you. We need to expand the community of monthly donors that help sustain Punto Crea. Please share with your colleagues, friends and family this story about how even limited funds have leveraged other support. You are a living example that a little help can go a long way when we all pitch in.
Best wishes and thanks again,
Felix
=====
El mes pasado aprendimos en qué medida las donaciones mensuales son el núcleo que permite que Punto Crea crezca. Aa inicio de este año comenzamos a conversar con la oficina para Guatemala de Childfund, con la intención de establecer Punto Crea en comunidades que ellos apoyan.
Childfund tiene una larga historia de compromiso con Guatemala y construye la confianza, salud y educación de los jóvenes en las comunidades que atiende. Pero enfrentaban un reto; no basta desarrollar competencias en los jóvenes, ellos necesitan algo en qué aplicarlas de forma concreta. Aquí es donde entraría Punto Crea: nuestra metodología ofrece oportunidades para que los jóvenes que han desarrollado competencias de liderazgo las apliquen a la tutoría de otros jóvenes al desarrollar retos de aprendizaje y adquirir competencias en áreas de ciencias, tecnología, ingeniería, artes y matemáticas (STEAM, por sus siglas en inglés).
Pero justo cuando estábamos por completar nuestro acuerdo ¡vino el desastre! El covid-19 nos obligó a todos a guardar la cuarentena. ¿Cómo se reunirían los jóvenes para realizar sus actividades de Punto Crea? Nos tomó otras seis semanas descirfrar con nuestros colegas en la Asociación de Amigos del Desarrollo y la Paz (ADP), el socio de Childfund en Baja Verapaz, cómo organizar e implementar Puntos Crea virtuales.
Al fin hemos completado un acuerdo y hemos comenzado a capacitar una cohorte de 16 tutores, que incluye tanto personal de ADP como voluntarios comunitarios. Y aquí es donde los donantes de GlobalGiving demostraron ser esenciales: si no fuera por su apoyo no habríamos podido dedicar el tiempo necesario para rediseñar el modelo de Punto Crea y completar la negociación con nuestros nuevos socios. El apoyo de los donantes en GlobalGiving ha sido, en el sentido más estricto, un catalista de esfuerzos mayores. Por favor acepten nuestro agradecimiento más sincero por ello.
Ahora por favor ayúdennos a encontrar más gente como ustedes. Necesitamos ampliar la comunidad de donantes mensuales que contribuyen a sostener Punto Crea. Por favor comparte con colegas, amistades y familia esta historia acerca de cómo aún algunos fondos limitados han apalancado otros apoyos. Eres ejemplo vivo de que un poco de ayuda puede llegar muy lejos si todos colaboramos.
Nuevamente, mis mejores deseos y mil gracias.
Félix