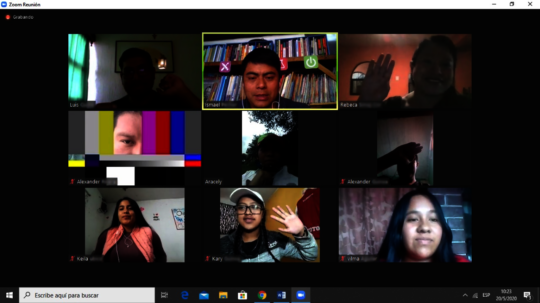 (Vea la versión en español abajo) A full year has passed since Punto Crea started appealing for your help through GlobalGiving. This is a good to reflect on where it stood a year ago. In January 2020 Punto Crea was just recovering from the sudden and unexpected end of its public grant funding. Only two field team members remained and it had no field locations to operate in. And then the pandemic struck!
On the plus side, a group of 79 individual donors had responded to our call for help and made contributions in November and December of 2019, ensuring that Punto Crea could stay alive. A full 20 of these donors committed to it for the long haul and continue making monthly contributions to this date. I cannot thank you enough: in total between one-time and monthly subscriptions you contributed $18,742.78 to Punto Crea over 2020 (after GlobalGiving fees and including funds raised in December 2019)!
Everybody suffered with the Covid-19 pandemic, but Punto Crea was well placed to respond. Not only had we made a point of having all our educational and management resources available on line, but the Punto Crea team —Coordinator, Facilitator, Tutors and the youth themselves— are, if anything, creative! Punto Crea activities were moved online entirely: youth started meeting weekly online, tutors were coached online, and importantly, evidence of learning began to be posted online and assessed online. Stress created an explosion of innovation in Punto Crea!
Midway through 2020 we established a partnership with Childfund and Asociación de Amigos del Desarrollo y la Paz (ADP). This was only possible because individual donations created the "breathing space" for Punto Crea to continue while we closed a deal.
So now to the results! Today Punto Crea is operating in 6 communities (3 in Alta Verapaz, 2 in Quiché and 1 in Huehuetenango). It has 17 certified volunteer tutors and 11 active youth groups meeting weekly online and looking forward to being able to meet in person again. A total of 52 youth are participating regularly, 32 of them young women and 20 young men. And this is what really counts: 52 young people have discovered that science, technology, engineering, arts and mathematics are fun, are possible even under lockdown at home, and are expanding their critical and creative thinking through the Punto Crea learning challenges. All of this is possible because you committed to helping us. Again, please accept my heartfelt thanks! And please
invite your family, friends and colleagues to join you in helping Punto Crea
grow back better and stronger in 2021.
==========
Ha pasado un año desde que Punto Crea comenzó a pedir tu ayuda por medio de GlobalGiving. Es un buen momento para reflexionar sobre dónde estaba hace 12 meses. En enero de 2020 Punto Crea apenas empezaba a recuperarse del recorte repentino e inesperado de sus fondos de donación pública. Solo quedaban dos miembros del equipo y se carecía de locales para operar. ¡Y entonces vino la pandemia!
Del lado positivo, un conjunto de 79 donantes individuales habían respondido a nuestro pedido de ayuda e hicieron donaciones en noviembre y diciembre de 2019, con lo que aseguraron que Punto Crea sobreviviera. Un total de 20 de esos donantes se comprometieron a largo plazo y siguien haciendo contribuciones mensuales hasta el día de hoy. No puedo agradecerles lo suficiente: entre donaciones únicas y suscripciones mensuales aportaron $18,742.78 a Punto Crea en 2020 (luego de descontar comisiones de GlobalGiving e incluyendo los fondos recaudados en noviembre y diciembre de 2019).
Todo mundo sufrió con la pandemia de la covid-19, pero Punto Crea estaba bien situado para responder. No solo habíamos desarrollado todos los recursos educativos y de gestión en línea, sino que el equipo completo de Punto Crea —y aquí incluyo a la coordinación, facilitador, tutores y los jóvenes mismos— vive por el nombre: ¡son creativos! Las actividades de Punto Crea se trasladaron enteramente en línea: los jóvenes se reúnen semanalmente en línea, los tutores hacen coaching en línea, la evidencia del aprendizaje se documenta y evalúa en línea... el estrés causó una explosión de innovación en Punto Crea.
A mediados de 2020 establecimos una colaboración con Childfund y Asociación de Amigos del Desarrollo y la Paz (ADP). Pero esto solo fue posible por el «espacio para respirar» que Punto Crea tuvo gracias a las donaciones individuales.
Así que ahora a los resultados. Hoy Punto Crea opera en 6 comunidades (3 en Alta Verapaz, 2 en Quiché y 1 en Huehuetenango). Tiene 17 voluntarios certificados y 11 grupos de jóvenes que se reunen cada semana en línea y que esperan pronto verse cara a cara de nuevo. Un total de 52 jóvenes participan regularmente, 32 de ellos jóvenes mujeres y 20 jóvenes hombres. Y esto es lo que realmente cuenta. Son 52 jóvenes que han descubierto que la ciencia, la tecnología, la ingeniería, las artes y las matemáticas son divertidas y pueden hacerse aún cuando se está encerrado en casa. Son 52 jóvenes que hoy expanden su pensamiento crítico y creativo gracias a los retos de aprendizaje de Punto Crea. Y todo esto solo ha sido posible gracias a tu apoyo comprometido. Nuevamente, acepta mi más sentido agradecimiento. Y por favor
invita a tu familia, amistades y colegas a acompañarte en ayudar a que Punto Crea
crezca más y mejor en el 2021.