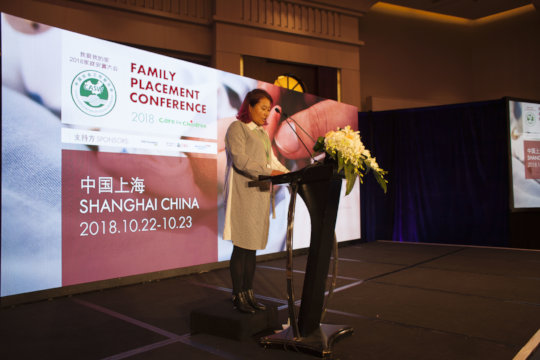 In late October, Care for Children hosted a two day family placement conference in Shanghai, China. The aim of the conference was to share international best-practice in family placement for orphaned and abandoned children in Asia. We were lucky enough to have a number of foster parents speak about their experiences of fostering. Here is the remarkable account of one of them:
"Many of my friends don't understand, they think I'm stupid. I disagree. My neighbours, who are also foster carers, we together provide a home and this kind of love has filled every corner of our village.
"Li Wei* was very ill - often it took half a day to take him to hospital. It was so difficult. My husband and I lost our initial excitement of fostering but the incredible support of the (orphanage) staff kept us going. They visited two or three times a week and took a lot of the pressure off us. Since then Li Wei has learnt to walk, read and eat all on his own.
"We go to the park and Li Wei dances when he hears music. He loves to dance. He's part of our family now. One day when I was feeding him egg he shouted 'Mum, Mum'. This was the first time he had called me his mum.
"Zhang Min also joined us to be a sister to Li Wei. They've been with us for three years and now our house is filled with love and laughter because of them. Our family is more happy because of them. My heart is filled with happiness when they hug and kiss me. It's normal to love our own baby. But to love someone else's baby takes courage as well.
"I've had bad moments, I've shed tears, but because of Li Wei and Zhang Min I want to give them the warmth of a home. My life is much richer than before because of my experience of foster care. We'll keep doing this so that more and more children can have an opportunity to have a better life."
Once again, thank you for your support and staying connected with our work.
* All names have been chnaged to protect anonymity.