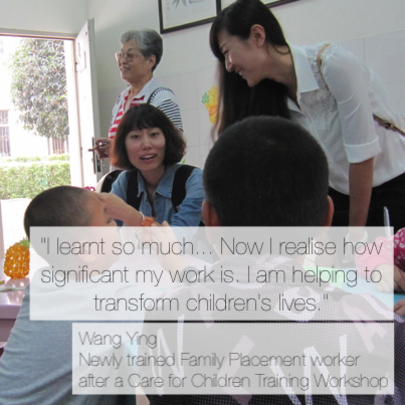 As the Care for Children team trains on family placement across China, they have the incredible privilege of meeting with the families who have taken children into their homes, and the children whose lives have been transformed by being accepted into a family.
One such young man was Xiao. Xiao was placed into a family in China from one of the orphanages Care for Children trained when he was 5. He is now 17 and has been living with the same foster family for 12 years.
When Xiao was first placed into this family, he had a bad temper, was very insecure and very controlling. He was violent to himself and towards his foster parents.
His foster mother was amazingly committed and experienced. She would spend as much one-on-one time with Xiao as possible, giving him lots of attention and love to make him feel special and secure.
Over time Xiao began to make progress. The acceptance and love his new family gave began to turn his life around. He started to trust and feel like he belonged.
Last year, with the encouragement and support of his foster family, Xiao successfully passed the entrance exam to a tecnnichal school to study, his self esteem positively enhanced by the love of a family. This was a huge acheivement.
This is Care for Children's vision, that a million children like Xiao can flourish in life as they know the love of a family.
Thank you for your ongoing support that enables Care for Children to train those working with vulnerable children in China to provide the best thing for these children's futures - a good family.