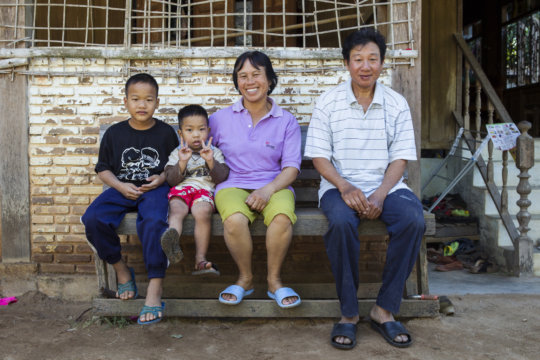 We have just completed a three year evaluation of our projects in China and Thailand and want to share a few highlights and reflections with you…
The creation of a new set of core training materials that are tailor made for Thailand, and adhere to international standards, is one of Care for Children's most accomplished achievements over the last three years! We were able to draw from our wealth of experience working cross-culturally between the UK and China and to adapt this experience to the Thai context. No other organisation in the past in Thailand has achieved this outcome in the field of foster care, so it really is a pioneering achievement.
In China, we have we have trained 1,629 staff from 406 care institutions. This has equipped them to recruit, assess and train foster carers in the local community, as well as place, support and monitor children as they move into families.
"I saw a real change in the staff after they attended the training on foster care with Care for Children. They were much more aware of the importance of placing children in families and they had a deeper understanding of how important it is for children to grow up as part of a family rather than living in an institution." Care Institution Director, Thailand
"When I started my job, the process of foster care was not clear. We now use the knowledge we have learnt from Care for Children to adapt our jobs, for example, screening families, establishing emergency foster families, collecting more detailed information, as well as observing children's behaviour. We now have a clear standard." Care Staff, Thailand
"I had no idea about fostering before the workshop, and I even thought that fostering is not suitable for middle and small cities. However, the training completely changed my thoughts. In my future work I will do my best to promote fostering." Care Staff, China
"I didn't realise that the child needs to know his identity before the workshop. Now I understand why we should tell him who he is, why he is here, and where he belongs, in ways that are acceptable and appropriate for him." Care Staff, China
"We wanted foster children because we love children, and now we are retired we are available. The children have bought new warmth into our family. We love them very much because we are with them all the time. We have experienced a lot of positive things by fostering. For us personally, we are not lonely anymore. We see that the children need someone to rely on and we can help them." Foster parent, Thailand
"Bringing him into our family has made us like a mother and son. It's not hard. I love him like my own child. I want him to grow up to be a good person. I want him to have a good job, a good future. My husband loves him very much. Everybody accepts him." Foster parent, Thailand
We are now at an exciting juncture in our goal of transforming child welfare systems across Asia, with our projects in China and Thailand entering new phases. In Thailand, the next stage will see us roll-out our pioneering work nationwide with a strategic programme to introduce foster care to all state-run care institutions. In China, the challenge now is to ensure sustainability. Therefore, some of the care institutions we've been working with will become local or regional training hubs. Once fully trained, they will be able to provide training in best practice family placement to other care institutions across the country as we gradually reduce our involvement.
Any small donation you can give towards this work will be hugely beneficial and will make a big impact to the lives of the children.
Thank you again for staying connected with our work.