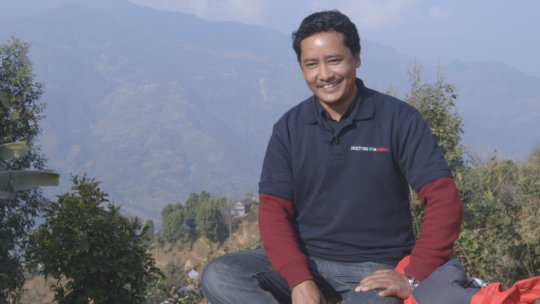 Dr Lalit is so very grateful for all the support he is receiving towards his dream of continuing his medical studies to postgraduate level.This is what he said when he heard that we have managed to raise £7,432 so far thanks to your donations:
"Namaste! I want to thank you from the bottom of my heart! I cannot believe how much money has been raised and I am truly very grateful. I will strive to do my very best work as a doctor in the remotest parts of Nepal. Thank you." Dr Lalit.
We are very aware that our doctors need postgraduate training to be really effective, but at present there are very few government-assisted postgraduate places in Nepal. Lalit is currently trying to secure one of these places by passing all of his postgraduate entrance exams and then being selected. Lalit writes: "I hope to start a new job at either the Karnali Academy of Health Sciences or at Patan Hospital, Kathmandu, but nothing is certain. I will be preparing for my postgraduate entrance exam at the same time as working. I am completely dedicated to bringing healthcare in remote Nepal but I need to refine my skill, knowledge enough to make a real difference."
As a result of the uncertainty surrounding Lalit's pursuit of a postgraduate place, Doctors for Nepal has decided to extend our project to include all our qualified doctors and medical students, and have raised our total goal to accommodate this. We are now seeking £40,000 to be able to help fund further postgraduate study for any of our three qualified doctors, Lalit, Nahakul or Meena – in return they promise to serve their remote rural communities for a minimum of 5 further years.
Dr Nahakul writes "I want to thank everybody and I'm really grateful and really in debt to all the people who are directly or indirectly involved in Doctors for Nepal. It's great to be part of such a big family. Thank you everyone."
Due to our focus on postgraduate finances, we have been unable to award an undergraduate scholarship for thie academic year 2017/2018, so, should none of our qualified doctors be successful in their bids to secure postgraduate places in the future, your very generous donations will go towards funding our current undergraduate medical students' studies and towards future scholarships.
Thank you from all at Doctors for Nepal and may we wish you a very Happy Christmas.