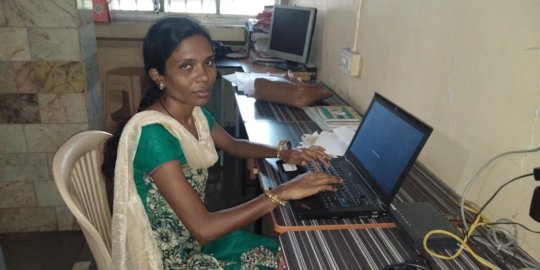 The internet is a very powerful tool, if used wisely it can solve many of our day to day problems and improve our knowledge on a variety of important topics, keeping us updated with the times. Infact, internet is such an all-consuming part of our life that we cannot even imagine that there are many underprivileged people who have no access to it.
Durga was one amongst the many underprivileged youth in India who could not complete her Higher education and was struggling with her small home-based business selling hand-made products like diyas, jewellery, pots etc. Needless to say, her self-esteem was diminishing day by day.
One day an IDEA social worker came to Durga's community to explain the importance of Digital literacy and the Govt. of India's National Digital Literacy Mission (NDLM), the social worker encouraged everyone to join IDEA's Digital Literacy centre where computer and internet basics are taught for free.
Overcoming hesitation Durga joined the course. She took to this new world like fish to water. She was ahead of her batchmates, waiting extra after class to practice more. Her teacher was impressed with her dedication and taught her all about online banking and ticket bookings. After the course, Durga also attended our special sessions on Cyber-security conducted by IT experts from the city.
Digital literacy gave her new confidence and hope. She began surfing for new information to better her business, new ideas for packaging and marketing. She discovered many tutorials through which she added many new and trendy jewellery designs. Durga could also market her products through online platforms like Facebook.
One day Durga was woken up by her neighbour saying that her husband needs to go to Delhi urgently and does she know of a way to get there fast. Within no time, Durga successfully booked a flight ticket for her neighbour. She already was using online banking so it was easy. After this incident, Durga became really popular in her community and the go to person in case of any "Computer related problems".
We meet Durga every week when she gets along 2-3 people from her community to get them enrolled at our Digital Literacy centre. She says that for many underprivileged people like herself who have limited access to education, their marginalization was inevitable until Digital literacy and the Internet gave them a level-playing field.
Friends, please donate to this project to help more girls like Durga become Digitally Literate!
Links: