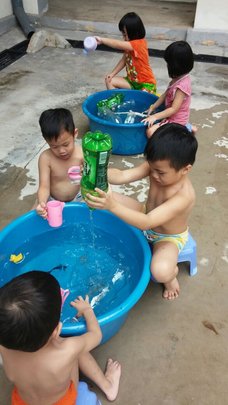 It has been a great start of the year and our activities for the past 3 months include:
CSR by Philea Resort Melaka on 6th January 2015
A team from Philea Resort Melaka came and helped spring clean the centre before the start of the new school term. The event is also part of their Corporate Social Responsibility activities. We are grateful for their help as it enabled us to be better equipped for the new year.
Parents Support Group on 31st January 2015
Our speaker for the event was Ms Lim Su Hui, a Speech and Language Therapist from Hospital Besar Melaka. She shared on the topic "Parents, what do you want?"
It was an interactive session with parents and service providers as she highlights on issues raised and faced by parents with regards to their child's development on speech, language and communication. It enables parents to think through during their decision making processes on whether it is 'what they want for their child' or it is 'what their child needs'.
Thank you card presentations to Hotel Equatorial Melaka and Philea Resort Melaka
We presented thank you cards made by our students and trainees to Hotel Equatorial Melaka on 12th February 2015 and Philea Resort Melaka on 13th February 2015 as a token of appreciation for their help and spring cleaning services which were rendered to our centre.
Sponsorship by Datuk Low Kiok Boo Foundation
We are grateful to the foundation for sponsoring a few of our students with financial needs. We visited the foundation with the sponsored students on 13th February 2015 for Chinese New Year celebration.
Visitors to our YAP café
Our YAP trainees cooked nasi lemak for lunch and served to:
Ex-Public Bank veteran staff on 28th January 2015
Staff of Jayamuda on 2nd March 2015
Advisor and friends on 5th March 2015
Ms Gan CP and friends on 25th March 2015
Other on-going activities by our YAP trainees include car washing and cleaning services.
The programmes are supported by a with staff force of 6 teachers in EIP & SAP, 4 trainers in YAP and 1 centre manager, supporting 25 students in EIP, 8 students in SAP and 9 trainees in YAP.
Thank you for your continuous support and encouragement throughout the years!