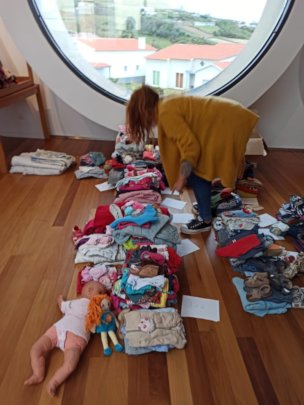 It seems ages ago when we were planning to conduct project activities without COVID restrictions and like for so many organisation, our activities came to halt for months.
We are, however very glad to report that the following actions toke place in the past 3 months:

- in August our big donation of collected clothing and essential items for young mothers and low-income familes in Azores Island, affected by the last year hurricane in the area were all delivered by our local partner Caritas Portugal. Feedback was excellent and these items really came handy. Thank you all who donate funds and items for this small project.
- We also contracted a short term digital media support for few working days a month and a 10-day consultant to support us to connect with private sector actors to parner and support our efforts. For these we are hugely grateful for the small COVID assistance funds received directly from GlobalGiving.

As for other updates, we have developed a Romi's Way School concept and are under discussion for a pilot project in Portugal - land has been indentified to accommodate the project which requires a food-forest-playground land and area to accommodate mobile-classrooms. More about this if we get the funding through (fingers crossed everyone please!).

We are also developing a small cooperation with an internatioal food-forest orgnisation seeking ways to integrate greenareas as mandatory parts of educational spaces and school communities, as well as contributing to the need for childnre to learn about Nature, in Nature and with Nature - in otherwords, to connect the next generation back to the liivng environment.
A small concept promoting "Good Life for All' was created with a 1-minute mini video for social and digital media audience, and we have updated our website a little bit (ongoing process though).
Lastly, we are cooking a campaing to raise awarness for wellbeing issues of animals used in enterttainemt, sports and tourism industry by educating people on the natural needs of these species.
All these small efforts are contributing to our greater aim to bring balance between people (children), animals and the environment.

We are ever so grateful for all your support.



Links:
Time flies - although a bit slower and lower during the COVID19 impacted months. For Romi's Way this has been a quiet time where our team has not been able to bring actions forward for our projects. Only concrete thing to report is the online research done in search for a suitable land for the urban agri-forest in/ nearby Coimbra in Central Portugal and the research and professional knowledge sharing of our agri-forest experts on what to plant and what is the 'ideal land' for the project.

We are hoping to launch a fundraising campaign and release a concept paper to cover our 3-year plan for the agri-forest during this autumn, and until then the project is having a (productive?) beauty nap. We are keeping our fingers crossed that we can shortly return to normality to extend that allows our team (= core team + volunteers) and physically progress with next steps. Knowledge is there and once the access & funds are in place, we are ready to roll on and share the fruits with the rest of the world (well, maybe the actual fruits from the agri-forest are only shared locally).

Thank you for your support so far and thank you for any new donations also. Your support is always welcomed with huge gratitude that extends to your financial contribution but also to your interest to restore balance between people, animals and our beloved Nature. We need people like you.

With kind regards and thanks,
Romi's Way

As most individuals and organisations, Romi's Way has been affected by the COVID-19 and a lot of our planned activities have come to halt (temporarily). Although this time has been extremely frustrating and there may not be a lot to report since March 2020, we can report that we have not spend any project funds nor implemented any activities during this period. We are waiting to receive an update from our partner in Azores (Caritas Portugal), who due to COVID19 also had to postpone the distribution event of clothing and good collected by Romi's Way team to support the Hurricane 2020 affected school communities & families in the islands. We are hoping to receive the news on the item distributions in July. We know, now more than ever, vulnerable families are in need of support.
Although not much results are shown in the past few months, we have managed to develop our work in other ways.
We have presented our Green Leadership Programme (of which this project is a part of) concept note to some potential partners from non-profit and private sectors whom we think would be a great match to support our vision to create a balanced world where children are taught to care for the environment, animals and for other humans through compassion, kindness and real understanding of Life. This is to educate the next generation with skills that the planet needs in future, shifting the focus from economic growth and 'me-centred' thinking towards ecological health and 'we-centred' thinking. Our CEO has held meetings (online) with a potential partner from a private sector who loves our vision and is interested supporting a first Green Leaders School to be established in Portugal. We aim for nothing less than an educational revolution :) in other words, we are hoping to inspire traditional educational systems to include changes in their ways of teaching and perhaps hoping to create more schools like our Green Leaders School. More news about this later on - for now, please keep your fingers and toes crossed for the partnership to be formed.

Lastly, we are in discussion to form another partnership with a local non-profit organisation to work on the ethological aspect of this project, hoping to include the equine-assisted healing sessions into the programme. Again, due to the COVID situation, these plans are postponed until September.

We hope to continue our work and plans shortly and look forward to keep you posted with some good news.
With huge thanks for everyone supporting our work - every donation counts and is used 100% for our projects. We are a small organisation with a big vision, and your continuous support is helping us to create a balanced, healthy world the next generation.
Kindly,
Sari Bernardo - CEO, Romi's Way
WARNING: Javascript is currently disabled or is not available in your browser. GlobalGiving makes extensive use of Javascript and will not function properly with Javascript disabled.
Please enable Javascript
and refresh this page.