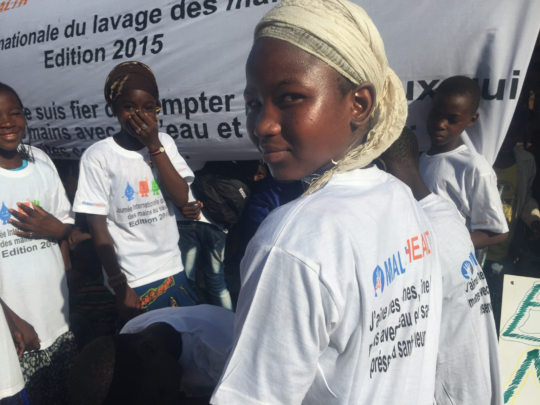 To celebrate Global Hand Washing Day on October 15th, Mali Health organized a grand celebration for children from the communities of Sikoro and Sébénicoro. Mali Health's team welcomed the mayor of Sébénicoro, school officials from the two districts, and teachers from the two participating schools to celebrate hygiene and hand washing practices at a public school in Sébénicoro.
Under a banner reading, "Water, soap, and hands are inseparable friends in order to reduce pneumonia and diarrhea. I wash my hands to maintain my health, and how about you?" hundreds of children packed in around an open stage to participate in the excitement of Global Hand Washing Day. Mali Health emcee and DJ Abdou got students and teachers dancing with Malian music and led the afternoon's events. Mali Health's medical advisor, Dr. Diak, emphasized the importance of the celebration, reminding the audience that washing hands before eating and after going to the bathroom is the most cost-effective way to prevent pneumonia and diarrhea. Nearly 30 students from the two participating schools came prepared for Mali Health's Hand Washing Olympics, each wearing the event's specially designed t-shirt reading, "I like the people around me. I wash my hands with water and soap in order to maintain my health AND my friends' health."
The first competition was a demonstration of how to properly wash hands using soap and water. From each school, one student demonstrated and another described the proper hand washing technique in detail. To reinforce their perfect demonstration, one of our Community Health Workers also showed the crowd the correct way to wash their hands. Afterwards, Toure brought up eager volunteers from the crowd to answer tricky questions about hand washing, and many of them answered correctly to receive prizes of soap and packages of bleach.
The atmosphere was festive and entertaining, as the students' enthusiasm and creativity got the audience excited about the hand washing celebration. Each school presented a skit to show how easy and important hand washing is. In one skit, a group of family members sat down to eat dinner, and the daughter who forgot to wash her hands had a stomach ache afterwards. Another competition required that students write and perform a song about hand washing, and the lyrical voices of the singers got the audience humming and clapping along. Two teams also showed hand-made drawings of each step of hand washing.
At the end of the day, the Sébénicoro students ended up winning the contest, as decided by a panel of Mali Health judges. Nevertheless, we gave out nearly 15 sets of hand washing buckets, solid and liquid soaps, and packages of bleach to both of the participating schools. All students from the two schools had also recently received free medical consultations from Mali Health. The mayor, school directors, and Mali Health staff members handed these gifts to the students and teachers, who were thrilled to receive their well-earned rewards.