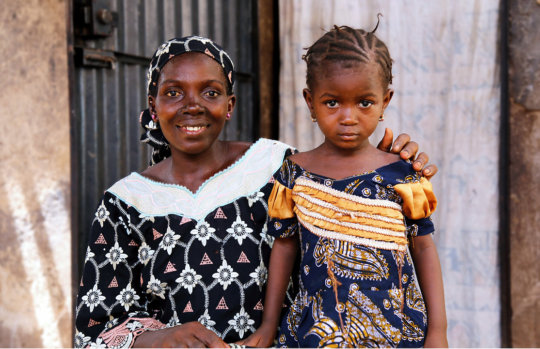 A year ago, a coughing child might have been a serious concern for Oumou, a mother of two in Bamako's Lafiabougou neighborhood. Pneumonia is one of the leading causes of death for children under 5 around the world, and particularly in Mali. Despite living within a stone's throw of her community clinic, it seemed impossibly far when Oumou was forced to choose between feeding and clothing her young children for a month, or spending all of that month's money on a single visit to Bamako's pay-per-use health system.
Oumou's situation is shockingly common across Mali. Half of the population lives below the poverty line and 1 out of every 6 children dies before their fifth birthday from treatable illnesses like pneumonia. Oumou doesn't hesitate to list several neighbors who have lost children in her neighborhood over the years, or other families who couldn't afford to access basic health services for their children. So when Konouba, Oumou's 2-year-old daughter, started coughing, Oumou had every reason to worry—that is, until late 2014.
Oumou's family was identified by a team of Mali Health community surveyors for enrollment in our Action for Health program. Families are eligible for Action for Health because they fall below a set of economic and health indicators that place them among the most vulnerable members of our community. As a participant in Action for Health, Oumou now receives free health services for her children at the local clinic, still a stone's throw away, but no longer separated behind impassable financial barriers.
Along with free consultations and medications to treat Konouba's cough, Oumou's family receives regular health education counseling at her home, during Community Health Worker (CHW) home visits. Oumou says one of the most important skills she learned from her Mali Health CHW is how to prepare Oral Rehydration Solutions (ORS), which combat the devastation of diarrheal illnesses—another leading cause of child deaths worldwide. The ingredients to ORS are so deceptively simple that Oumou was surprised at how effective the home treatment actually is. Oumou welcomes these bits of knowledge that she can apply directly in her home, because she feels more independent and in control of her family's health without having to make difficult sacrifices, like food or clothing.
Since 2010, Action for Health has empowered thousands of people like Oumou to play an active role in improving their families' health. Through the community outreach efforts of our CHWs and increased civic engagement of our participants, clinic visits continue to increase beyond the national average and more parents seek care for their children within 24-hours of recognizing the first symptoms of illness—another set of skills CHWs include in their home visits. As a result, the child mortality rate among our Action for Health participants across six project sites in Bamako has fallen to zero. Mali Health is expanding the program to save even more lives.
Sometimes Oumou says that she feels like a health worker herself, spotting sick children around the neighborhood and advocating for the healthy behaviors she learns from her CHW, with her friends and neighbors. Oumou wants to contribute to a healthier environment so that new parents will never experience the fear that the sound of a coughing child can signal. Instead, they'll know that the cure to a simple cough is only a stone's throw away.