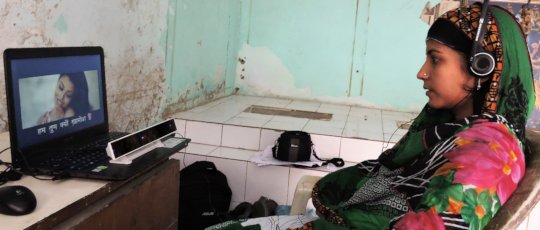 Dear Friends,
Here is an update on the eye tracking project that we are working on.
Project Summary: Same Language Subtitling (SLS) is the idea of subtitling audio-visual content in the "same" language and script as the audio. See https://www.youtube.com/watch?v=tOsWToI2PIw.
Several studies have found that regular viewing of existing film songs on TV, with SLS, results in reading skill improvement. In 2-3 years of frequent exposure, an early-literate who cannot yet read, transitions subconsciously to functional reading ability because the brain cannot but try and match sound and text that is in perfect synchronization. Bill Clinton called SLS "a small change that has a staggering impact on people's lives." See https://www.youtube.com/watch?v=juZOlmf9APk.
The research questions we would like to explore with early-readers are: How much reading along occurs with SLS on film songs? Does that depend on reading ability and/or prior knowledge of the song/lyrics?
We are hopeful of answering the above questions by doing a thorough eye tracking study.
Project Goals: In 2 different low-literacy regions/languages (e.g., Hindi and Telugu), we will identify 100 early-literate and out-of-school people per state (half male and half female). Early-literates are defined as people who self-report as "literate" but who cannot read a simple Grade 2 level text, with a minimum level of fluency.
Show each of the 200 early-literates, two different content genres: 1) 4 film songs in their language of literacy, with and without SLS, and 2) a 5-minute film clip of dialog, with and without SLS. Two of the songs will be well-known to the subject and two, not. All the sessions will be eye-tracked using a table-top eye-tracker like Gazepoint.
To determine the quantum of reading due to SLS, our analysis will compare for both content genres, the number of eye-fixations and time spent in the subtitle band, with and without SLS.
For 20 subjects representing the diversity of our sample, we will create a video capturing their eye-tracking, like we did in the Rajasthan study: https://www.youtube.com/watch?v=1QuJKet4SPw&feature=youtu.be.
The first phase of this project was recently conducted in Rajasthan where we conducted the eye tracking study on 150+ weak readers. We are now in the process of analyzing the data. A detailed report will soon be available.
Here are some small video clips of the eye tracking study:
Reading assessment test: https://youtu.be/Cx17F0wd9dI
Girl watching video with SLS: https://youtu.be/dqYbsYHO1T8
Man watching video with SLS https://youtu.be/vAJ2xiQUKPc