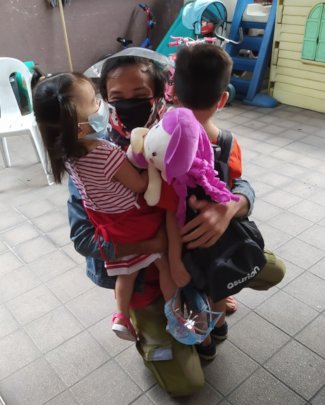 The children's father was 19 years old while their mother was 30 years old when she got pregnant to Vincent (not his real name). Both of them were jobless. The father abandoned them. The mother was unable to provide for the basic needs of the child so she placed him in a temporary shelter for security purposes.
After 2 years, the mother re-united again with her common law-husband. Later, she got pregnant again and that is, Julie (not her real name). However, Julie and her mother ended up on the street when she was 3 months old because their father abandoned them again for the second time. Julie was malnourished and had serious skin problem behind her ears.
The mother sought assistance from Tahanan ng Pagmamahal to admit Julie for her to be with her elder brother Vincent and for the safety of the children. She was aware that being on the street hampered the growth and development of the child. However, through the love, care and support of the staff, Julie regained her normal health condition after 4 months.
Both Vincent and Julie, were healthy, happy, playful and cared each other. Vincent was enrolled in Kindergarten this year while Julie is attending daily tutorial to improve their skills.
While the children were in the shelter, their mother worked as a domestic worker locally. She visited the children regularly before COVID-19 Pandemic and attended monthly counseling focused on parent effectiveness and the importance of saving for their children.
In 2019, their father worked in a hardware store and he searched for the mother of his children. In the same year, they reunited and living together again. They realized their responsibilities as parents to their children. Their father became responsible, caring and promised to become a good father to their children.
Their parents worked hard in preparation for their reunification to their children. They were able to pre-owned a semi-concrete house, bought a motorbike for the family use and save some of their monthly salary in the bank.
Their parents passed their Parental Capability Assessment conducted on February 2021 done by the social worker of City Social Welfare and Development Office. Hence, they were reunited on the first week of March 2021. During the reunification, the staff witnessed the happiness both to the children and their parents.
Both the children and parents were so thankful also for giving them the chance to be together and live as a family.
Having somewhere to go is HOME, having someone to love is FAMILY, having both is a BLESSING… Together we can make a change in this world by helping children while working out or empowering them to become responsible parents.