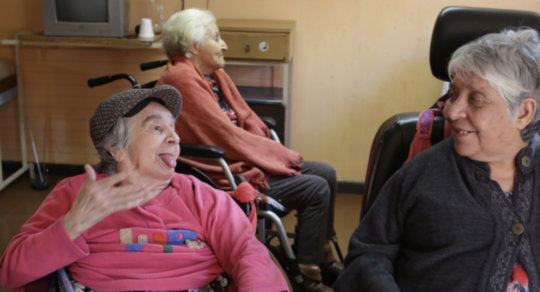 Villla Giacaman del Hogar de Cristo, located in Hualpén, houses 55 elderly neglected, extremely vulnerable and poor, a high-risk population to which the team led by Benito Montecino (31), its director, is willing to defennd.
The residence works with 49 technicians and professionals who serve 32 men and 23 women. There were 55 human beings at imminent risk if the coronavirus virus entered the residence, which was in in strict quarantine for many months. "Our users are almost all abandoned, many lived 10, 20, 30, 40 years on the streets, had problematic alcohol and / or drug use, and, due to a heart attack, a fracture, a stroke that disabled them , they got here. They are mostly prostrate, with a great cognitive disconnection, which frees them from environmental disturbances, although there are some who do understand what is happening and are scared"explains Benito.
At the peak of the pandemic, when work did not cease, when teams are dwindled and stressed, he says that energies, motivations and emotions have changed.
Hogar de Cristo has instructed all residential programs so that its workers who have chronic diseases do not attend work due to the risk of contagion by coronavirus, which is exacerbated in them. The instruction is telecommuting. The universities that supported them with students in practice have stopped doing it for safety. That has forced the team to reorganize the shift systems; they were left with two fewer caregivers during the day and one less at night, and for all - technicians and professionals - to be trained in all direct treatment tasks, from moving the elderly to feeding them.
"We are going through different states of mind. Motivated, committed, but afraid, because this is unprecedented. Never seen. Our central commitment is to avoid the contagion of our residents, workers and volunteers, who are mostly older adults, who have had to stay at home. We are connected with the Seremías de Salud, de Desarrollo Social, with the Talcahuano Health Service and with the Talcahuano Sur Family Health Center, who daily help us to care for our residents. Together, we are taking all protection measures with a population that is the highest risk ", confesses the always fireproof Benito, whom the sanitary cordon established in San Pedro de la Paz, where he lives, some days has made it difficult for him to arrive to Hualpén.
Once at the residence, all workers must take their temperature, then undergo a clinical hand wash and a complete change of clothes into the sanitized uniform. It was only there that they began to work, maintaining social distance between them and wearing masks and gloves, which caused a crisis in all the country's programs, given the shortage of these basic supplies. This has resulted in a desperate call from the health authorities of the national social director of Hogar de Cristo, Paulo Egenau: "Our workers are as relevant as any health worker, public or private. They fulfill the same functions, attend and work with vulnerable and sick people, and they need to protect themselves so as not to become vectors of contagion within our programs ".
Precisely to avoid this risk, Benito explains that they were "avoiding as much as possible referrals to emergency services and health services for our residents, because the base hospital that corresponds to us, has collapsed its emergency system, Except in the case of life risk."
Faced with this reality, what they were doing is resorting to telemedicine in the face of any problem or alteration in the health status of the residents. Thus, the daily life of Villa Giacaman passed between the sending of videos, audios and photos of the staff with the doctors assigned to this service by the health authorities. "We hear conversations about symptoms and dialogues with the geriatricians who have appointed us for the virtual care of our foster care." And also contacts via Skype or WhatsApp of those who are more connected with reality with their relatives or significant figures, given that visits were prohibited by provision of the health authorities more than a week ago. There it is the workers who help the older adults with the technology so that the conversations can take place. "Dialogues that make them happy, gratifying and make their day to day more satisfying," notes the social worker.
At lunchtime, news channels were tuned in, but only at that time. "Those who understand what is happening were being terrified that they are the population most at risk, so we decided to dose that content to them. The rest of the time, entertaining films and programs are shown, happy, which lower our stress level. Although we no longer have volunteers, we have still done activities like joke contests and dance to keep morale up. And so we are overcoming the difficulties ", says Benito.