Being part of SGT motivates us to succeed. We want SGT to be proud of their 'daughters'.
- STOP Girl Trafficking alum
At AHF's urging and with the help of our local partners, some of the girls who graduated school and left STOP Girl Trafficking have formed alumnae groups. And in Dhangadhi in the Far West, one group is dreaming big.
There are about 100 young women in the Dhangadhi alumnae group. Out of the 21 I met with, four were married, five had full time jobs, and two had part time jobs. That's an employment rate of 33%, which is extraordinary for young women in rural areas of Nepal.
And they weren't employed as day laborers, but had an astonishing array of jobs, including a radio DJ, a safe migration counselor, a professional Kabbadi player and coach, a museum guide and a private tutor. Four of the women have also applied for scholarships to study law in college. The young women credit RHEST (our partner), SGT and the alumnae group with their successes:
"Because of SGT we were educated and remain unmarried. We want to take advantage of this opportunity and really advance ourselves."
The Dhangadhi alumnae group has even started its own microenterprise: sweater manufacturing. They raised over $3,000 selling secondhand clothing, giving computer lessons, and through a small monthly membership fee. With these funds they invested in a commercial spooler, loom and sewing machine. They selected four alums—one with previous experience as the manager—and opened up a small, one-room workshop in a house next to the local SGT office.
For now, their product range is limited to school uniform sweaters in two colors. 15 pieces a day, each costing $3.50 and selling for $5 earns them $22.50/day—more than the $5 they would earn as a farm laborer—and the work is year-round. RHEST is their first customer, and with more than 900 girls in the district, the order is substantial. But we know they're up to the task.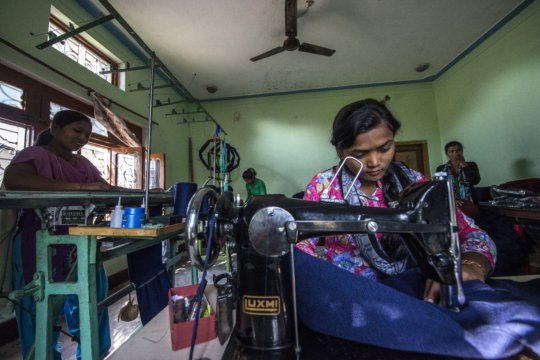 Links: