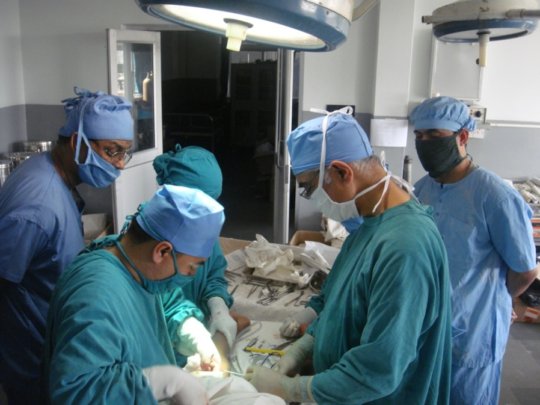 If you or a loved one has ever undergone surgery, you know that it can be stressful and scary. Even under the best circumstances, it can be hard to keep your mind from wandering to the "what ifs". Dr. Ashok Banskota and his team opened the doors to the Hospital and Rehabilitation Center for Disabled Children (HRDC) 19 years ago, and they have been providing life-changing operations and peace of mind to patients and parents since.
From humble beginnings in a makeshift clinic near the edge of Kathmandu, today HRDC is a state of the art hospital with 67 doctors that have reached over 66,000 young patients with medical and rehabilitation care. Over the last 19 years, HRDC has gained worldwide renown, particularly for their treatment of a common condition in Nepal known as clubfoot, in which babies are born with tendons that are too short, causing the feet or legs to twist in, and making it difficult or impossible to walk later in life.
Nepal, known for its beautiful mountain ranges and pristine vistas, is also home to inadequate and at times, simply absent medical care facilities. Club foot, like most conditions seen at HRDC, is easiest to treat as early as possible with non-surgical procedures and physical therapy. But due to poverty and little access to healthcare mean this isn't the case. According to Dr. Banskota, "almost 50 percent of the cases we [HRDC] deal with are preventable. Late report has been the major challenge. With early identification and a certain level of awareness, many children can be prevented from suffering and disabilities." He goes on that, "Seeing children suffer is completely another level of pain and I knew I had to do something about it." Dr. Banskota and HRDC are making it possible for any child, regardless of their ability to pay, access to the care they need; and they do it with the utmost skill and compassion.
19 years of success can be measured in the growth and quality of services provided at HRDC, and it can also be seen in the faces of the children, their smiles and laugher, knowing the freedom of movement is just around the corner.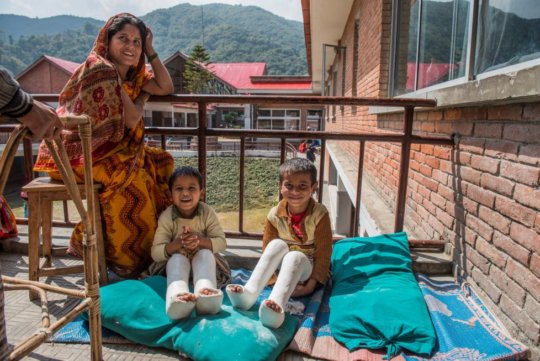 We walked under big mango trees through the courtyard of what had been the most beautiful school in all of Kavre. But no more. 26 of the 32 classrooms had been demolished by the earthquake, and bricks were still, a year later, piled up alongside stacks of window frames and debris.
The students were still coming, though, to learn in temporary bamboo and tin-sheet classrooms. We headed to one of the few rooms still standing to meet with 20 SGT students in senior high school and college. Stories poured out of them about the uncertainty of their lives in the past year—living in makeshift shelters, lost family members, little food. But we could hear their resolve as they described staying in school, despite the challenges.
I asked each of the girls around my table to think about what they would like to change about their country. One said: so many women have children over and over because they must bear a son. I'd like to change that. The next said: I'd like to change the caste system. Another: I would like to build good schools for all the children in Nepal. And one of the alums: I want to pass the test so I can work in government and change it from the inside.
One girl asked if she could sing us a song she had written. She had a lovely voice, and as she sang the room fell silent. Aruna was teary. I asked her to translate, and she said the song was about labor migration. Nepali people are poor and they go far away in planes under blue skies to work, but they come home in black coffins. That's what this girl wanted to change.
Big questions for teenagers. And thoughtful answers. It gave us hope for the future of Nepal, even as it broke our hearts about the present.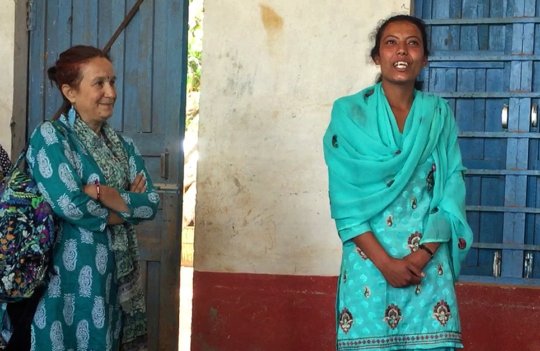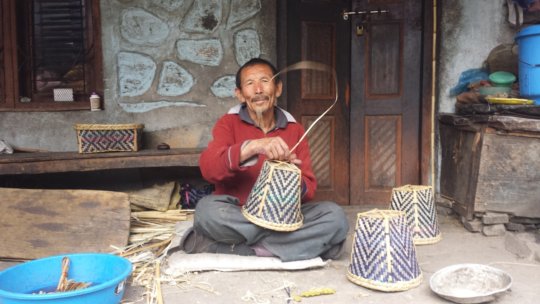 Pasang and his wife, Lhakpa, have lived as refugees in the border settlement of Syabru for over 50 years—just 20 minutes away from the Rasuwa/Kyirong border. It has never been an easy life, but the last year has been one of the most challenging.
In February 2015, during my visit to Syabru, Pasang could not keep up with the demands for his hand woven baskets. "Tibetan Losar is near and so everyone wants my baskets to decorate," he said. I was lucky to get one for my mother, who was pleased for this and my safe return.
But the two earthquakes of April 25 and May 12 last year brought down every home in the settlement, including Pasang and Lhakpa's. When I revisited them in November, they, like many, were living in a shelter in the fields.
Thankfully, new earthquake-resistant homes are beginning to come up, one by one. We hope to complete rebuilding of these safer homes for Pasang and Lhakpa, and other families in the region, soon so they will not have to go through another monsoon and winter in the tents.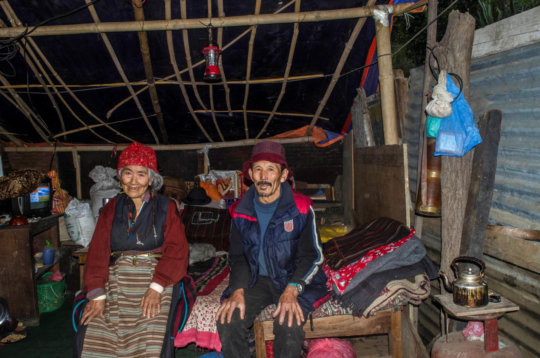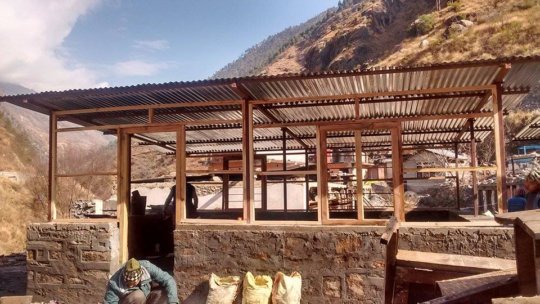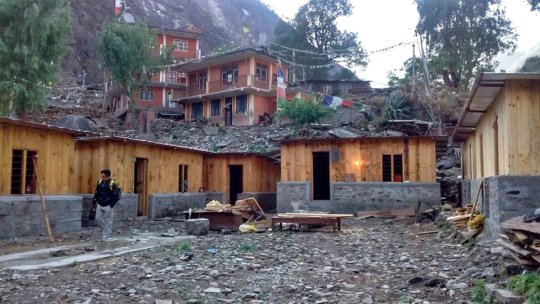 WARNING: Javascript is currently disabled or is not available in your browser. GlobalGiving makes extensive use of Javascript and will not function properly with Javascript disabled.
Please enable Javascript
and refresh this page.