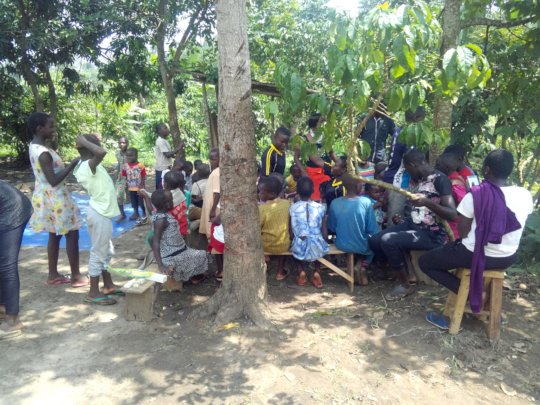 During this period which has been quite challenging of all times in our history, we would like to extend our sincere thanks to all our friends that have supported us throughout this period spiritually, financially and morally.
We would like to Thank GlobalGiving for giving us an opportunity to share with all of you through their available platforms. We also want to extend our special thanks to all of you our donors that supported us through the accelerator campaign and are still supporting the project to date.
To this we are grateful for you have helped us meet some of our major goals.
We thank God that through the accelerator campaign in March because of your support we were able to meet some of our initial targets, and we are hopeful and believe that you will continue to be part of this family as we work together to achieve our major objective of building a home and school for your children whom you support which is still in progress and we will continue to update you as it unfolds.
The other objective was to have a sustainable support for the children welfare which has been achieved through you our esteemed donors that have continued to support the project and to this we are also grateful.
During the period, Corona virus has been the major challenge to our children, since March the country was placed under lockdown and the schools were closed which has affected the children greatly in terms of their lively hood and education.
They have to cope with new measure in education and especially the candidate class children who are not clear about their exams.
Apart from the corona virus pandemic, our community was also attacked by measles and some of your children were affected which required to spend more on medical services, which your support made it possible for us to go through that difficult time where movement was limited due to corona various lockdown, thank you once again for if it was not for your support it was not easy.
I am further happy to inform you that, because of your support, we have been able to provide the daily required meals to the 110 children under our care and the essential supplies like cleaning materials, medical and educational materials despite the negative effects Covid 19 has caused in our community.
We are grateful that during this period when it was hard for many families in our community, we were able to go through it without much hassle as your support provided all the essential necessities.
Despite the challenges of corona virus, because the children are not going to school, we have had to engage them in learning life skills and most of it has been in house chores and gardening.
Finally, with your support, on the acquired land we have been able to grow some food, we bought seeds, opened land for cultivation and we are looking forward to harvest our own food which will improve children diet by having various food that constitute a balanced diet and the fruits on the land have started bearing fruits due to proper care which will help in sustainability of the project.
The cost cuttings will help in our goal of building our own home and school for our children.
On this note therefore I wish to thank you once again and appreciate you for your support.
God bless you with gratitude
Marjorie