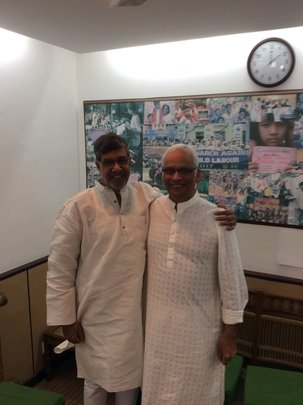 1. ASSET Idia's parnership with Nobel Laureate Kailash Satyarthi's organization BBA-Save the Children began last year with the rescue, rehabilitation and rescue of 200 girls trafficked from the tea estates in Assam.
2. The trafficked girls are lured by brokers with the promise of well paying jobs in Delhi and other cities.
3. The girls are then sold as domestic help by the brokers for a huge fee and many girls subsequently end up in brothels.
4.BBA has been intrumental in getting the courts to issue injunctions against these brokers.
The problem of sex trafficking is rampant in India today and the problems to be addressed are numerous. In this partnership, ASSET India Foundation and Bachpan Bachao Andolan (BBA) will address the problem by a holistic and sustainable approach.
Prevention and Community Participation: This will be a two fold program involving Child Friendly Villages (CFVs) and campaigning against the evils of sex trafficking through Mukti Caravan. 20 CFVs will be set up in the state of Assam and Mukti Caravan will be run in around 400 villages over two years. The campaigning will take place in key areas of Assam (Source Area), Alwar (Source Area), Silligudi (Transit Route) and New Delhi (Destination Point).
Protection and Prosecution: The raid and rescue of girls working in sex work will take place in three key areas of Assam, Silligudi and New Delhi. During this partnership, 50 girls/year will be rescued. Additionally, 100 girls/year will be provided with legal aid.
Policy and Partnership: This partnership will help influence the gaps in policy regarding sex work in India through better understanding of the needs in the sector as the levels of intervention take place.
Research: The research that will take place will look at three aspects- Dimensions of Sex Trafficking in India- This will take New Delhi to be a test case in India and look at the process of trafficking and the economics that relate to it. Status of Sex Trafficking- Through Right to Information reports and other secondary resources, the status of sex trafficking will be recorded.
Analysis of factors affecting trafficking of girls and women from vulnerable districts of Assam- Fieldwork based assessment of factors influencing the process of trafficking of vulnerable girls and women.
Links: