WARM had its most successful year in agency history by serving over 180 households in 2019. However, the need is so great that our waiting list still hovers at 200 families long, nearly a one-year backlog. WARM has increased productivity almost every year, even during the Great Recession. WARM strengthened its capacity by hiring two additional construction professionals to shorten the wait time and recruited hundreds more volunteers. Over 32,000 volunteer hours were served with WARM in 2019: a record number!
Since Hurricane Florence, WARM has assisted 171 homeowners recover from hurricane damage. Together, we have helped many in our community but there is still a lot to be done. Within our current waiting list, 107 homeowners are still waiting for hurricane assistance and continue to live in disrepair. But with your help, we were able to help one of them, Ms. Barbara.
"I hope they can help so I don't have to move. Don't know where I would go if I had to move."
Ms. Barbara wrote this quote in her application to WARM, pleading for help. She is an elderly widow of a Marine Veterans and has lived in their home for over 33 years. Before her husband's death, he experienced a tragic accident where he was in a coma for 5 years. This led her to become an ordained minister. She hosts worship services in a church located in her backyard, until Hurricane Florence hit.
Ms. Barbara suffered severe roof damage from the hurricane causing extensive flooding. This caused her floors to become so water damaged she was scared she was going to fall through at any moment. She didn't know where to turn; then she found WARM.
With help from volunteers and generous donors, WARM finished rebuilding her home in fall of 2019. We installed a brand-new roof, repaired all water damaged flooring, built a new landing and stairs, installed new kitchen cabinets, and new doors.
Thank you for your support of WARM. You helped Barbara remain in her home. She regained her confidence to invite her neighbors into her home and can continue worship in her backyard.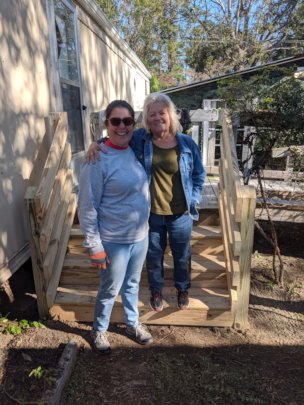 Links: