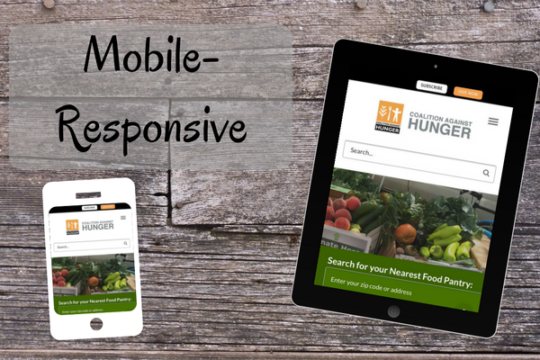 Since our last report, we have launched a brand new, mobile-responsive website designed to fight hunger!
When we examined our old website's analytics, we saw that the most visited pages were our Food Pantry Map and our Food Resources page, therefore we wanted to be sure that the new design would improve the user experience not just for those looking for information about us, but for those looking for food assistance.
You will notice at the top of the new homepage is our SNAP Hotline number. When the site is viewed on a mobile device, the number can be tapped and a call will be immediately connected to our office. From there we can help people apply for SNAP benefits or connect them directly to a food pantry in their neighborhood.
In addition, there is now a search bar prominently featured on the homepage that allows the user to find their nearest food pantry. Once an address or zip code is entered, the map will sort the results to show the nearest emergency food provider to their search. The search can also be filtered by day of the week to help people get the food they need quickly. Each emergency food provider on the map has updated contact information as well, which allows a user to reach out to them directly.
We are excited by the opportunities the new website allows. And following the launch, we have seen an increase in traffic to the overall site, and specifically to the map page compared to the same time period from November 2015-January 2016.
We encourage you to take a minute to explore the new and improved hungercoalition.org, and head over to our Volunteer Page to find ways to get involved!
As always, thank you for you continued support in the fight against hunger. Your dedicated commitment allows us to work toward immediate, short-term and long-term relief for our friends, neighbors, children and seniors who face hunger on a daily basis.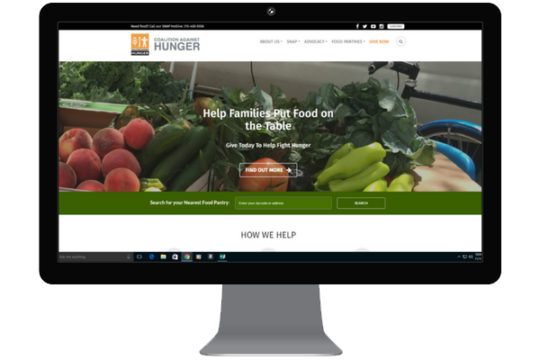 Links: