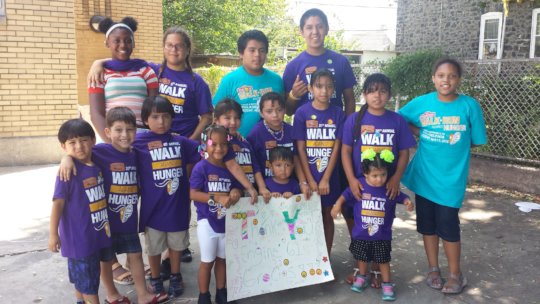 Do You Know Someone Who Is Food Insecure? Chances Are...You Do!
Food insecurity remains a serious and pressing issue affecting a family's inability to provide enough food for every person to live an active, healthy life. One "bad month" can be enough to plunge a household into food insecurity. Lay-offs at work, unexpected car maintenance or an accident on the job can suddenly force a family to choose between buying food and paying bills. Working families across America face countless situations that can result in food insecurity and hunger.
In 2017, the USDA reported that 36.8 percent of households with incomes below the Federal poverty line were food insecure. Moreover, food insecurity was more common in large cities and rural areas than in suburban areas.
The Coalition Against Hunger strives to build a community where all people have the food they need to lead healthy lives. We connect people with food assistance programs and nutrition education; provide resources to a network of food pantries; and educate the public and policymakers about responsible solutions that prevent people from going hungry.
Based on a 2016 U.S. Census data (the most recent data available) Philadelphia is ranked as the poorest large city in America. Twenty-six percent of the city's residents currently live in poverty, including a staggering 37 percent of the city's children. An alarming half of the children in poverty—nearly one in five Philadelphia children—live in deep poverty (family with income at 50% below the federal poverty line: $9,669 annually for an adult living with 2 children).
FAST FACTS
Currently, in the United States, 41.2 million people or 12.9% struggle with food insecurity, including 28.3 million adults and 12.9 million children
5.3 million of US households or 12% are estimated to be food insecure.
Over 1.6 million Pennsylvania residents, or 13.1%, are food insecure.
There are 730,886 people in the Greater Philadelphia region, or 12.1%, are food insecure.
Residents of the Greater Philadelphia region make up 45.7% of all food insecure people living in Pennsylvania.
Source: Feeding America, Hunger and Poverty Fact Sheet, September 2017
Source: Hunger-Free America, Greater Philadelphia Hunger Report 2017
Today, The Coalition works to alleviate hunger in the region by providing immediate relief with our support of food pantries and soup kitchens; short-term relief helping nearly 5,000 people annually apply for benefits; and working for long-term systemic change through our advocacy efforts.