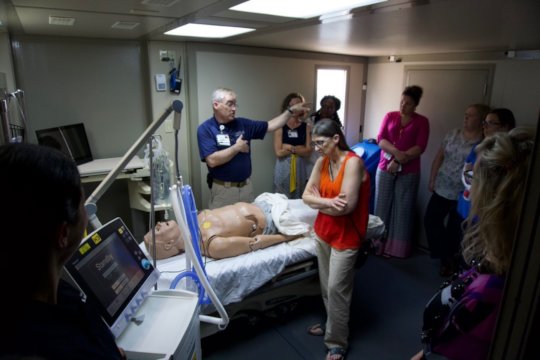 As International Medical Corps' emergency response to Hurricane Florence in September of 2018 has ended, this update will be the final one. Thanks to the support from GlobalGiving and other donors, International Medical Corps enabled access for some 162,500 people across seven locations to relief and recovery. Our teams, with support from nonprofit organizations, provided 160 health consultations through mobile medical units and temporary shelters; and distributed to health facilities nearly 8,000 hygiene and wound-care kits, which included household cleaning supplies, personal hygiene provisions and bandages, among other items.
To continue supporting International Medical Corps and our GlobalGiving projects, please visit our "Emergency Response to the Ebola Outbreak in DRC." The second largest Ebola outbreak in history, with 2,084 suspected or confirmed cases as of today, has officially crossed international boundaries into Uganda. Your support is urgently needed to help alleviate the crisis.
https://www.globalgiving.org/projects/emergency-response-to-ebola-in-the-democratic-repu/
From Relief to Self-Reliance in North Carolina
In May 2019, our team returned to North Carolina to identify training needs to prepare the communities for future disasters in collaboration with local health and medical professionals. Our assessment identified a desire for infectious disease training for providers at local healthcare organizations, including health departments, healthcare facilities, long-term care facilities and emergency management staff.
We facilitated the development of a curriculum covering infectious disease prevention and control in disasters with the New Hanover County Health Department, the Southeastern Healthcare Preparedness Region and the New Hanover Regional Medical Center. The training sessions included some 80 participants from diverse backgrounds. "The training facilitators loved seeing the breadth of experience of training participants," highlights Ryann, Training Officer with International Medical Corps' Emergency Response Unit. "There were pharmacists, veterinarians, vector-borne disease specialists, environmental health services supervisors, and the hospital emergency response team, to name a few."
Thanks to GlobalGiving and other donors, International Medical Corps has helped organizations in North Carolina, like the New Hanover County Health Department, transition from relief to self-reliance. Lisa, the Preparedness Coordinator for the New Hanover County Health Department, tells us that, "this project afforded us the opportunity to pull together partners throughout the region to experience the training together, deepen our working relationships, and prepare to move forward with additional training and exercise opportunities."
The International Medical Corps' training program will continue with a full-scale simulation exercise scheduled to take place in Fall 2019. After the training is completed, the participating healthcare professionals will return to their places of employment able to strategically influence their department-specific plans related to infectious disease prevention and control in emergencies and natural disasters.
Thanks to the support of the GlobalGiving community and other donors, the training curriculum developed in North Carolina after Hurricane Florence will now be used to help communities affected by Hurricane Maria in Puerto Rico and Hurricane Michael in Florida.