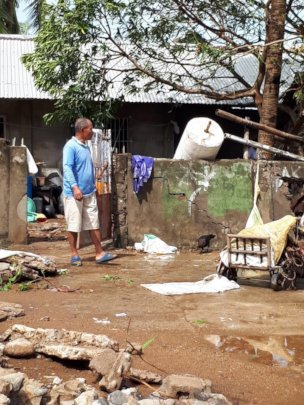 As International Medical Corps' emergency response to Typhoon Phanfone and the Taal Volcano eruptions draws to a close, this will be our final update.
To continue support International Medical Corps and our GlobalGiving Projects, please visit our "Emergency Response to the Coronavirus (COVID-19) project, where International Medical Corps is providing a global response to the pandemic, including reaching the Philippines.
Learn more about our Coronavirus response here: https://www.globalgiving.org/projects/emergency-response-to-the-coronavirus-2019-ncov/
Typhoon Phanfone made landfall in the Eastern Visayas region of the Philippines on December 24, 2019. The category 2 storm affected more than 3.2 million individuals and displaced more than 130,000 residents. Virginia, a member of the community affected by the storm says "all that was left to us was a wall on one side of what used to be our house."
Only weeks later, on January 12, 2020, the Department of Science and Technology's Philippine Institute of Volcanology and Seismology (PHIVOLCS) reported that eruptive activity at the Taal Volcano main crater had intensified, with ashfall landing as far as Quezon City, some 100 kilometers, or 62 miles, away from its location in Taal, Batangas. The eruptive activity affected more than 736,000 people and damaged 14,082 homes.
International Medical Corps' team deployed to some of the most affected areas in Biliran and Eastern and Western Samar in Eastern Visayas as well as to surrounding areas of Batangas province to begin meeting communities' most urgent needs and helping them to recover following Phanfone and Taal, respectively. Then, on January 30, 2020 the country faced the first death due to COVID-19 outside of Mainland China.
While activities have been impacted as a result of the COVID-19 pandemic restricting travel, International Medical Corps is partnering with municipal health offices to ensure impacted community members receive the critical support that continues to be needed.
In order to respond to both the impacts of natural disasters' devastation as well as the realities of COVID-19, International Medical Corps is integrating COVID-19 prevention messaging into the distribution relief supplies and hygiene materials. This not only prevents the spread of disease and keep families healthy as a result of natural disaster, but also support the ongoing pandemic response.
Dr. Nelsie, Municipal Health Officer of Balangkayan, Eastern Samar, states,
"Thank you for the generous support to our communities, who continue to need access to safe water, as well as hygiene supplies. With the current COVID-19 pandemic, we believe it will be even more helpful to the families affected by Typhoon Ursula [Phanfone]."
We thank the GlobalGiving community of donors for bringing awareness and support to International Medical Corps' relief and recovery efforts in the Philippines.