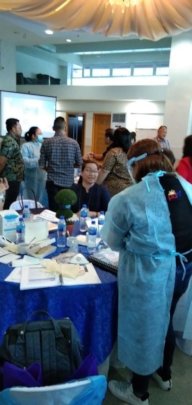 As a result of rapidly rising cases of COVID-19 in the Philippines, International Medical Corps is temporarily shifting from providing emergency relief and recovery in response to Typhoon Phanfone and the Taal Volcano to focusing on the most emerging need – the prevention and treatment of COVID-19. As of April 22, 2020, COVID-19 has caused 6,710 confirmed infections and 446 related deaths as well as 693 recoveries in the Philippines.
To bring this pandemic to an end as quickly as possible, International Medical Corps is supporting healthcare worker safety in the 30 countries where we provide services. We are leveraging our 35 years of experience and the knowledge of our epidemiologists from the 2014 – 2015 Ebola outbreak, the 2003 SARS outbreaks, and infectious disease response efforts to ensure at-risk countries and regions, like the Philippines, are best able to respond to COVID-19 outbreaks.
Globally, International Medical Corps is supporting relief and recovery efforts with the provision of supplies, screenings and case management, capacity building, mental health and psychosocial support, and the deployment of an Epidemic Response Team, as needed. For more details on our global response to the COVID-19 pandemic, visit: https://www.globalgiving.org/projects/emergency-response-to-the-coronavirus-2019-ncov/
Specifically, in the Philippines, we have temporarily transitioned from our Typhoon Phanfone response and are now working with the Department of Health and Manila Health Officers to help prepare for and respond effectively to the COVID-19 pandemic. In anticipation of additional cases, the Department of Health identified a total of four hospitals that may act as testing facilities. At one of these hospitals, the Santa Ana Hospital in Manila, we provided a medical shelter where the team is supporting surge operations, screening those suspected of having COVID-19, and establishing triage units and patient flow.
Prior to the outbreak, one N95 mask cost approximately $0.50; this price has now more than tripled, limiting local health systems' ability to purchase crucial supplies. As a result of a global shortage of medical supplies and rising costs, we procured and delivered 200 PPE kits, each containing items such as masks, gloves, goggles, gowns, and others, to the Manila Health Department to help alleviate the strain on their local health system. In total, we have distributed more than 865,000 PPE and infection prevention and control (IPC) supplies in the Philippines as of April 17, 2020.
Complementing the PPE and IPC donations, we provided training to 44 healthcare staff, including physicians, nurses, non-medical staff, outreach workers, and more, on how to appropriately use the donated supplies — building their capacity to be more effective First Responders. Our teams also trained these same participants on related topics, such as: infection prevention and control procedures, the epidemiology of COVID-19, and isolation and quarantining protocols.
Finally, in addition to the previous trainings, we are working with the Manila Health Department to finalize a training-of-trainers curriculum related to the management of emerging infectious diseases by health facilities. The teams plan to include a variety of participants, including health professionals from the city's six district health offices and hospitals who will use the knowledge and tools they gain to train staff in the city's 58 health centers. Furthermore, the trainers will also host training sessions for Emergency Response Teams that have been established in the city's barangays, or neighborhoods — exponentially spreading awareness and preventing the spread of COVID-19.
Thank you to the GlobalGiving community for continuing to support our emergency response and recovery services in the Philippines.