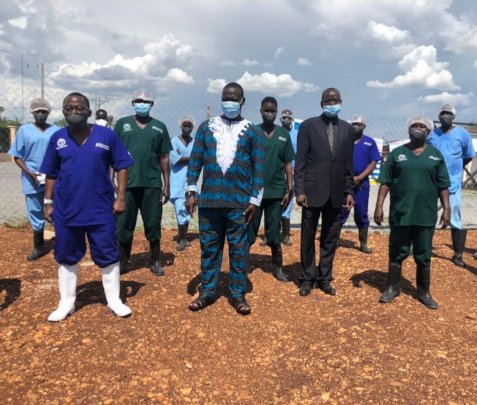 COVID-19 continues to spread around the globe. According to the Johns Hopkins University dashboard, as of the end of May, there have been more than 5 million confirmed cases of COVID-19 and some 350,000 related deaths reported in 188 countries and regions.
To help bring this pandemic to an end as quickly as possible, International Medical Corps is supporting global healthcare worker safety in the countries where we provide services. We are leveraging our 35 years of experience and the knowledge of our epidemiologists from the 2014-2015 Ebola outbreak, the 2003 SARS outbreaks, and infectious disease response efforts to ensure at-risk countries and regions are best able to respond to COVID-19 outbreaks.
As of May 5, our teams had screened 202,317 individuals for COVID-19 at our global missions and had distributed more than 2.6 million items of personal protective equipment (PPE) to supported health facilities. Additionally, we had trained over 8,000 frontline healthcare professionals on COVID-19 prevention and control measures and reached some 437,000 people with communications on how to reduce risk.
In the United States, International Medical Corps is coordinating with more than 20 hospitals to ensure that we are meeting the greatest needs in Los Angeles, New York City, Puerto Rico, Chicago and Detroit.
In New York City, in an interview with NPR on April 9, 2020, Susan Mangicaro RN, our COVID-19 Team Lead, stated that, "This is really unprecedented compared to anything I've ever seen. Our healthcare systems are overloaded and overburdened. The staff [are] struggling with being able to meet the needs of the patient. [We are] making choices we should never have to make."
You can listen to the rest of the interview here.
In Lebanon, thanks to the help of donors like the GlobalGiving community, International Medical Corps has provided some 80,200 PPE and IPC items, including gloves, waterproof overalls and soap, to healthcare centers in Lebanon, and provided training on infection prevention and control and the use of PPE to some 46 health workers so far.
Nafous, a Health Outreach Volunteer in Lebanon tells us that, "The COVID-19 trainings I attended with International Medical Corps were very useful and valuable. They included comprehensive information on safety guidelines and infection control precautions, which I didn't know before."
The donated PPE and IPC items are helping Nafous perform her work safely: "The personal protective equipment supplied by International Medical Corps has encouraged me to conduct field visits to primary healthcare centers due to the feeling of safety they give me, which enables me to encourage beneficiaries to visit healthcare centers and seek health services."
For more information on our global response, please visit: https://internationalmedicalcorps.org/emergency-response/covid-19/

We thank the GlobalGiving community for continuing to support our global emergency response efforts to the COVID-19 pandemic.