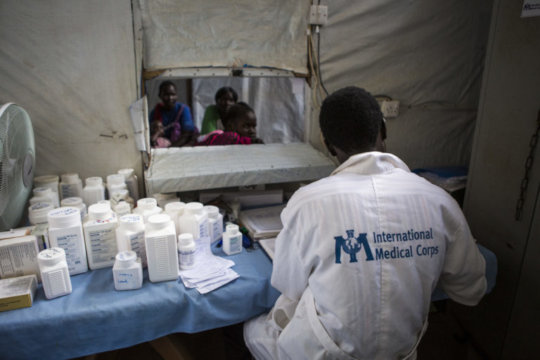 South Sudan has endured years of conflict and violence, forcing some 2.2 million people to seek refuge in neighboring countries while approximately 2 million remain displaced inside the country.
But this story is not about the immediate and ruthless damage inflicted by war; this story is about mental and psychological struggle—struggles that can be inflicted by the brutal conflict.
At 28 years old, Chan is very familiar with the invisible perils of conflict. Originally from South Sudan's Upper Nile region, Chan was living a good life before the war: he excelled in basketball at school and was a well-known artist in his hometown. Following the outbreak of conflict, Chan is now one of the millions who has been forced from his home. Today, he lives in a United Nations Protection of Civilians (PoC) site in South Sudan's capital, Juba. The Juba PoC hosts more than 30,000 individuals seeking safety from the conflict.
The war had only just erupted when Chan's family noticed that something was wrong. His behavior was changing rapidly: he started to struggle with his appearance and became aggressive. Verbally, Chan grew increasingly more difficult to understand, with words and sentences that had no meaning.
Before Chan met International Medical Corps' mental health and psychosocial support team at the PoC, he was kept in a holding facility. For more than a month, he had been a danger to himself and others, and as a result was detained. Looking back at the situation today, Chan remembers how the isolation left him feeling helpless:
"Things were not easy; people thought I was very dangerous. I lost hope, thinking life had no purpose anymore—everything just seemed to be going wrong."
Deeply concerned about his well-being, Chan's family contacted International Medical Corps' mental health team. When discussing it today, Chan's sibling says:
"We didn't know what was happening to our brother."
Once at International Medical Corps' health facility, a clinician diagnosed Chan with psychosis and prescribed an antipsychotic medicine. Over the following weeks, our psychosocial staff worked closely with Chan and his family to assess his progress and address any external factors that might be triggering his condition. The staff also worked to prevent the discrimination and stigma that Chan was often exposed to because of his disease.
After several weeks, Chan's condition improved significantly: his behavior had calmed enough that he was able to carry out household chores. Today, Chan is back to his normal self. Speaking to International Medical Corps' team in Juba, he says:
"I am happy. I never thought I would get married but now I am—I'm able to take care of myself and my wife."
Grateful that her loved one has recovered, Chan's family member, Nhial, says:
"I am happy Chan recovered from this 'sickness of the brain.' Now, we advise people with similar conditions to seek treatment and remain committed to medication."
Because Chan and his family were brave enough to seek help and speak about their success, rather than suffer in silence, more people are learning about the critical MHPSS services in the Juba PoC.
We thank you and the GlobalGiving community for your continued support as we work to reach those in need of general health, as well as specialized health services, in Juba and across South Sudan.
Photos by Patrick Meinhardt