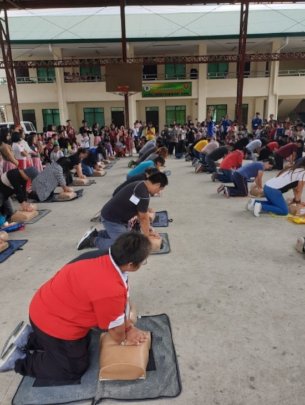 When Typhoon Mangkhut affected more than three million people and damaged over two hundred thousand homes in the Philippines, our teams deployed immediately to assess the most urgent needs following the devastation; today we are in the typhoon-affected province of Benguet, working to repair water systems, help ensure health facilities maintain access to electricity, and provide training to build back better.
Regarding the importance of our training, Dr. Jojo Cangao, Philippines' Response Lead for International Medical Corps states, "… while the typhoon brought the best out of the residents of the province, the residents and health workers themselves feel the need to improve their skills and readiness. For instance, one doctor explained, 'We need specific trainings so that we can better support our people better in times of calamities.' These words are like a marching order for us, and so we are helping provide the needed trainings, equipping local responders with the skills to feel ready to respond to disasters and emergencies."
With Dr. Jojo and our teams on the ground, including organization, Baguio 9-11, International Medical Corps aims to build capacity and improve sustainability by increasing the knowledge of the local responders through a series of trainings that focus on the topics such as first aid, CPR, mental health, emergency coordination of resources and related advanced skills. With the Department of Health, International Medical Corps has three objectives for these trainings in the Philippines:
Train more responders in the community
Include private health facilities in the trainings
Participate in the activities that strengthens the connection between private organizations and the local government
Most recently, our teams provided a Basic Life Support (BLS) Training of Trainers, reaching nearly 50 individuals who can now go on to instruct others in BLS techniques, such as CPR. In the Philippines, where emergency medical services can be very far away, BLS training can be an incredibly powerful tool for saving lives in disaster response and recovery. During our practicum session, participants demonstrated their new knowledge by teaching CPR techniques to local primary students.
The Regional Director for the Department of Health, Cordillera Administrative Region – where Benguet province is located – opened the training by stating that, "this Basic Life Support Training of Trainers training is the first to be conducted in a series planned… Among the trainings to be conducted next will be Mental Health and Psychosocial Support and Advanced Cardiac Life Support, which are now a requirement for licensing of ambulance services." The Regional Director believes that "saving lives, minimizes the damages and exercises the social unity that is expected to be achieved with government and private partnership, such as this partnership with International Medical Corps and Baguio 9-11."
International Medical Corps' organizational values and guiding principles have remained consistent: to provide relief, rebuild communities and enable self-reliance. With donations like those from GlobalGiving, you are helping our on the ground team members, like Dr. Jojo, build capacity beyond the initial recovery and into disaster response for many years to come. Any amount of assistance helps International Medical Corps support communities, like those affected by Typhoon Mangkhut, transition from disaster relief and recovery to self-reliance.