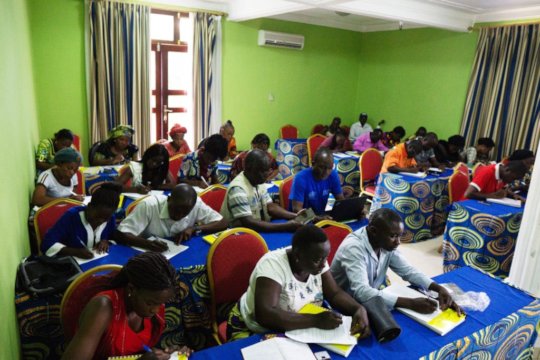 According to the latest Ministry of Health report, as of March 24, 2019, the number of cumulative cases official rises to a total of 1009, with 944 confirmed cases and 65 probable cases of Ebola, and 629 fatalities. Ebola has now spread across more than 20 health zones and two provinces. Never before have Ebola response teams faced active insecurity, community resistance and urban transmission simultaneously, all of which are weakening the effectiveness and reach of critical surveillance and prevention activities in North Kivu and Ituri provinces.
With misinformation and fear of Ebola, communities have been highly resistant to response efforts, contributing to the rapid and ongoing spread of the disease. Many individuals and families keep loved ones at home when they become symptomatic, flee from health facilities and checkpoints after presenting with a fever, and refuse vaccinations and follow-up. These actions leave communities and health workers extremely vulnerable to undocumented transmissions of the virus.
In order to address these concerns, we are conducting community engagement through community health workers (CHW) and community-based organizations. He goes on to explain that these CHWs and CBOs visit households in vulnerable areas, lead educational talks on Ebola, and facilitate awareness sessions about the disease. Trained to detect and raise alerts on potential cases, CHWs also play a key role in discovering new cases and contacts in their communities.
"Identifying a case early is extremely important," explains Dr. Cimanuka, the medical coordinator of the International Medical Corps Ebola response program in the DRC and one of our program's trainers. It's also important to break down resistance to the presence of health workers involved with the Ebola response, he says, and he is proud that staff members have been able to use their newly gained knowledge to engage leaders of communities. To date, International Medical Corps' community engagement activities have reached more than 54,010 people.
"Those who had initial doubts if Ebola was dangerous came to understand quickly just how real and how serious the Ebola Virus Disease is," says Dr. Nzanzu, a chief physician of Luotu in North Kivu province. The training provided by International Medical Corps "was great timing for ."
We thank the GlobalGiving community for your continuing support of our efforts to bring an end to this dangerous Ebola outbreak.