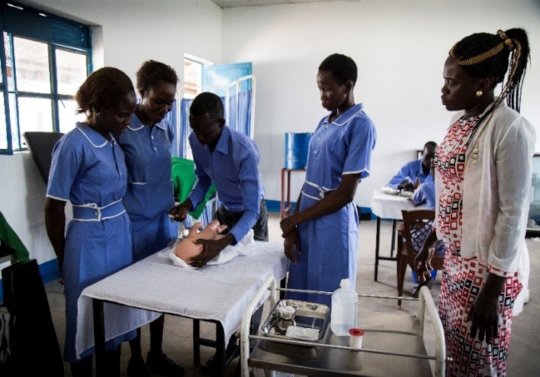 "In my country," Lexon, who is a midwifery student at one of International Medical Corps' sponsored schools in South Sudan explains, "we lose so many lives because of carelessness and lack of professionals. I keep asking myself, 'why do our mothers still die in childbirth?'"
Skilled birth attendants, such as midwives, mean the difference between life and death for mothers and newborns. The United Nations Population Fund asserts that 61% of maternal deaths, 49% of fetal deaths and 60% of newborn deaths could be avoided if all women delivered with a midwife in a fully functioning facility.
Yet in South Sudan, there is only one medical doctor for 65,574 people and one midwife for 39,088, well below the World Health Organization's recommended threshold of one health worker per 10,000 people. This leaves South Sudan with one of the highest maternal mortality rates in the world with an estimated 789 deaths per 100,000 live births — compared to 18 deaths per 100,000 live births in the United States.
International Medical Corps supports three midwifery and nursing training schools in South Sudan, the Kajo Keji Health Sciences Institute, the Juba College of Nursing and Midwifery and the Wau Health Sciences Institute, where a total of 146 midwives and 176 nurses have graduated from the three-year training program to date. In 2019, some 45 newly enrolled students began coursework in the sciences, communications, technologies, medical foundations and the humanities.
Many of the new students relying on support from donors to afford school costs, consisting of 19 women and 11 men, came from different parts of the country – some with stories of hardship. Mary, for example, is 24 years old and was born in Kakuma refugee camp, in Kenya. "I went to school in Kenya and came back to South Sudan two years ago and have always wanted to be a midwife."
Thanks to the GlobalGiving community, students like Mary now have the opportunity to fulfill their dreams of returning to their home communities to support mothers and ensure delivery of healthy babies for years to come.